$35000
1951 Morgan Plus 4 Drophead (SOLD)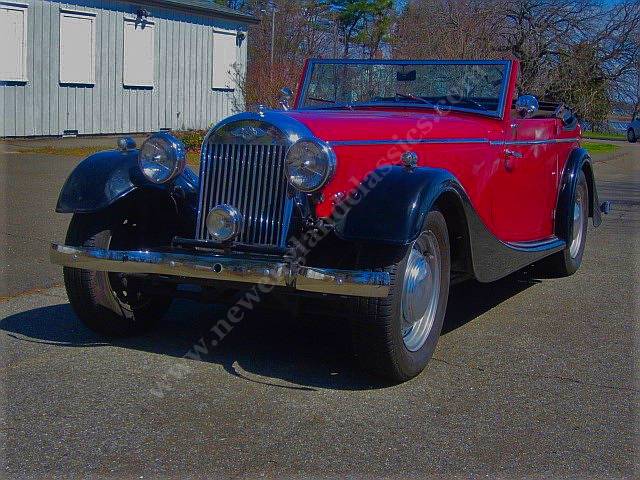 Click to view picture, left/right arrows to scroll
---
One of 117 built, one of perhaps 30 left in existence. Either way, a VERY rare Morgan and kind of a unique 'bird' in the Morgan coop....a 'luxury' car from a company known for 100+ years of making somewhat bare bones sports cars.
After a life in Switzerland, brought to the USA, restored and became a 1978 AACA National First place show winner. Since then, some mild road use, still ready for any show.
Original Standard Vanguard 2088cc 4 cylinder OHV engine, freshly rebuilt, basically the origin of the later TR2/3/4 engines and very similar. Engine freshly rebuilt and in excellent condition, we installed a new oil pump, cut the crank, new main and rod bearings, maintains excellent oil pressure and zero smoke, cold or hot. With a perfectly tuned Solex carb.
For now, however, we have chosen to install a TR4 engine, new 87mm pistons, head work, balanced, redone bottom end, new clutch, rebuilt HS6 SU carbs, and around 105hp. When sold, buyer can chose either engine.
New stainless steel Morgan factory muffler, transmission is in excellent condition, new throw out bearing, differential is silent, front kingpins/bushings replaced, hydraulic drum brakes work well, rides smoothly, and is an absolute delight on the road. Show 52,000 miles and there is an excellent chance that is correct.
Chassis appears to be rust and damage/repair free, wood body framing appears to be excellent, sheet metal and paint are all very good (a few very small paint chips here and there, mostly under the doors), top appears to be new and works fabulously. A three position drophead top, can be used with the rear 'hood' up (or down) or with the top section unfurled and fitted. With the sliding glass/chromed steel side curtains in place, is surprisingly quiet.
All of the interior was redone, seats in leather, all interior wood (and far more elaborate than a Morgan roaster) has been refinished, all original creme faced gauges work, face decals in very good condition, even all of the creme faced knobs, turn signals switch, and horn button are in very good condition.
We installed a new proper heater as would have been fitted when new and it is a true furnace....its two speed blower works well, has a new heater valve, and is capable of keeping the car's occupants nice and toasty in the dead of Winter.
Chrome is all first rate, engine bay nice and tidy, radiator has been cleaned, even the wonderfully classic 'trafficators' on the body side have been rebuilt and work properly. Very impressive.
What else? As I have been enjoying it for my own use, we converted the car to negative ground and fitted a modern Sony stereo/CD with USB input under the dash. Same with the 4' speakers and antenna. Has new seat belts, classic tripod headlights, working (legal) turn signals, six new tires, new battery, really ready for fun seasonal use and as a delightful entry in most any show.
(and have found it to be very comfortable on a 20 degree day....VERY un-Morgan like)
And this model was Morgan's first to have a semi automatic lubrication system for the front kingpins....start the engine, wait 'till the oil pressure gauge's needle goes up, hit the firewall mounted button for a few seconds and voila! Fresh, cool engine oil covers the kingpins. And off you go..........
Its 68hp engine pulls well, easily cruises at 70-75 mph on the highway, has a rated top speed of 85 mph. Remember, contemporary MGs....TC and TD....had 1250cc engines with 54.4 hp and far less torque. So, no, this Morgan is not particularly quick but moves along in its own elegant way. However, now with a 105hp TR4 engine, real performance.
Note differences with Morgan sports cars of the era....larger rearward facing doors with real inside and outside handles, twin spares, elaborate (and easy to use) convertible top, no louvers on the top of the bonnet (for quieter operation), far more wood in the interior, internal door arm rests, trafficators, really evokes the look of 1930s dropheads by Bentley, RR, Delahaye, and so many other great classics.
This car has just undergone a comprehensive level of preparation and most all of the little details have been attended to. Starts instantly, runs flawlessly, is quiet, smooth, and simply gorgeous from every angle. A rare opportunity to own an easy to service classic and a means of meeting your neighbors at local or regional shows.
Addendum: for my own use, we have just installed a 105hp TR4 engine, completely rebuilt, new pistons and bores, crank cut to 10-10, new timing chain, new valve guides, cut seats, balanced, brand new twin SU carbs, new clutch and throw out bearing (and, at the same time, we sanded and sprayed the firewall and engine bay in gloss black acrylic enamel), and the car is available with either engine. Or, at added cost, both engines.
Inventory Number: NE-1951-8

Printer-Friendly version