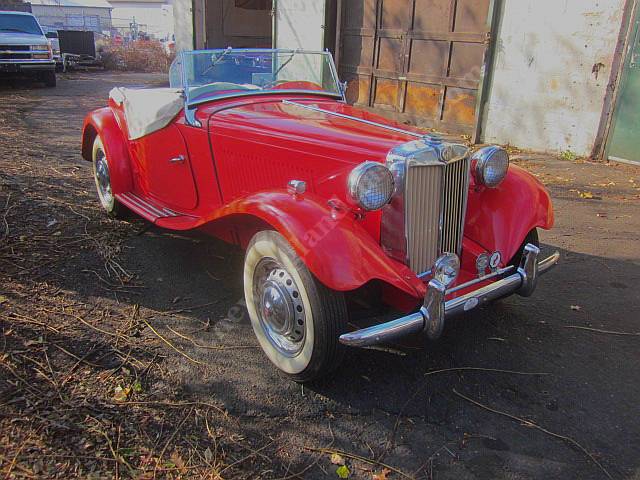 Click to view picture, left/right arrows to scroll
---
Just in from a family who owned it for over 10 years........their guess it was restored maybe 15 years ago. And during their ten years of ownership, their estimate is that MAYBE it covered 100 miles a season. Mileage shown, 41,000, is believed accurate.
Looks very good....some minor bubbling under the paint at spots but from five feet, beautiful. Very nice interior, dash, gauges (all work), switches, very good chrome throughout, fairly decent engine bay detailing, original air cleaner assembly, original wing lights, excellent tan top and side curtains, even an appropriate luggage rack. Overall....suitable for a low key, local car show.
HOWEVER whatever fairly minor deficiencies this car might suffer in the 'looks' department, it more than makes up for mechanically. Perfect compression, factory spec oil pressure (40 psi on the road), no smoke, surprisingly rapid acceleration (okay, 'for a TD'), excellent gearbox and clutch, steering and brakes all first rate, ride impressive, no rattles, no shakes, perfect directional stability, can't imagine any TD running or driving appreciably better.
What's left? Painted under the fenders, no sign or rust or rot, excellent wood floors, nice and tidy underneath. Overall.....really doesn't 'need' anything but, one day, sanding and repainting the fenders and more engine bay detail work would make a lovely near seventy year old classic sports car.
Truly one of the real bargains in the classic sports car market...for not a lot of money, one gets the pre war experience of a proper English sports car...lots of gauges, cut down doors, separate fenders and headlights, add Brookslands racing screens on the cowl, fold the windshield down, and a driver will feel like he is driving a pre war Bugatti, SS 100, HRG, or similar genuine (and far more expensive to buy and own) classic.
And yes, whatever a prospective buyer would like, we can do in our workshops.
Inventory Number: NE-1952-12

Printer-Friendly version