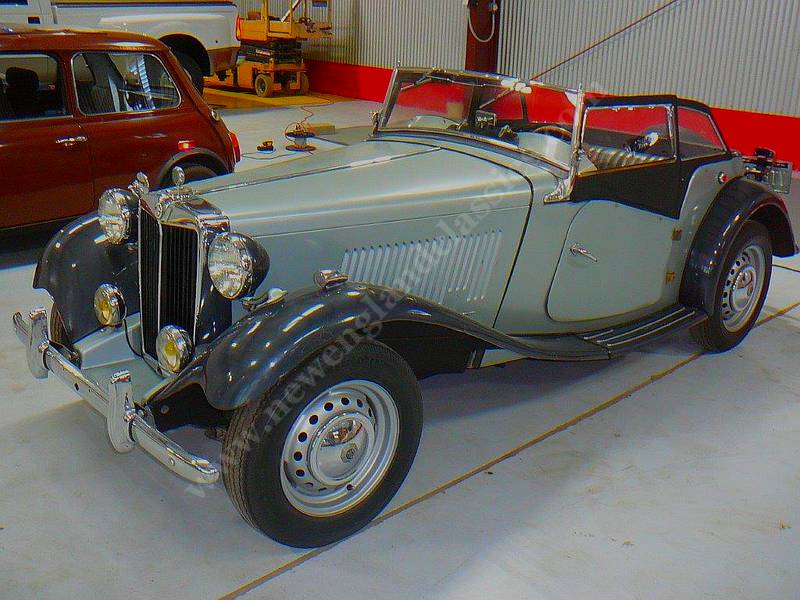 Click to view picture, left/right arrows to scroll
---
A nice, older restoration on what was probably an excellent original car. With 51,000 original miles since new.
Done in silver/gray over darker gray, really stands out and rather elegant (paint is older with some minor cracks and chips, not really seem from five feet away). Seats and interior panels are in very good condition, same with dash, and has a new top with near new side curtains.
'Numbers match' (original engine) and tested compression.....150 psi right across and 60-70 psi oil pressure when warm. And no smoke cold or hot. All of this is probably not any different than the day it left the factory, nearly seventy years ago and we suspect the engine has very few miles since it was rebuilt. Smooth running and very flexible....and clutch and transmission work well (quiet, good synchromesh, doesn't pop out of gear). We just went over the brakes, replaced all of wheel cylinders and master cylinder, all new brake shoes and flex lines, brakes work well. Engine bay is spotless and detailed as for show....especially nice with a new wiring harness and ribbed alloy side plates and rocker cover. Also has original air cleaner assembly, often missing on many TDs.
Front end and steering are 'tight' and ride, steering, and handling are very good. All working original gauges, new fuel pump and coil, lots of other new items throughout the car (muffler among others). Even a Motometer temp device on the radiator cap. Clearly it was maintained by someone who really cared for their car. And have documents and bills of sale back to 1956 (more than likely, back to the original owner as the earliest bill of sale is from 1956)..
Grille shell, bumpers, guards and other chrome is probably a mix of new or very good original. But it all looks great. As TDs go, while it is not a fully restored show car, it is sufficiently clean to present itself well at a local show. And with the bonnet open, VERY impressive.
What else? Exhaust is quiet, tires look fine and are of the proper size, has seat belts, fitted with turn signals (which many earlier TDs didn't have), wood floors have been finished and varnished and look like the deck of a yacht. All of the structural wood, that we can see, looks excellent and the photos show how impressive it is 'underneath.' Went over the body with my kitchen magnet and didn't find any trace of body filler.
Starts instantly, runs flawlessly, doesn't miss a beat. And the rest can be seen in the photos.
Inventory Number: NE-1952-7

Printer-Friendly version