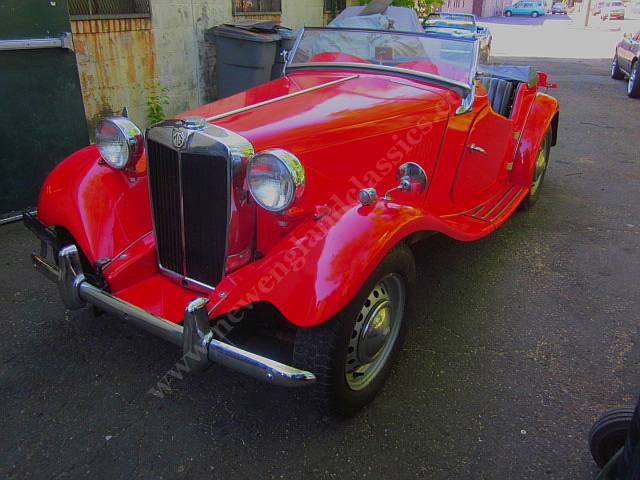 Click to view picture, left/right arrows to scroll
---
Just in.......owned by the same owner since 1969....garaged and babied........and a complete record of driving and gas usage from 1969 until sold.
Had 9,800 miles back in 1969, now 49,000 original miles. Guessing the engine was rebuilt as a compression test revealed 160 psi in every cylinder, 60 psi oil pressure when warm, no smoke, smooth and perfect running. This can't be any different than the day this car let the factory. Likewise, transmission seems like new....no popping out of gear, excellent synchromesh action, very quiet even in 1st and reverse, fantastic.
Body appears to be excellent, went around the edges of the fenders, bottom of the doors, even the narrow strip under the doors with my kitchen magnet and didn't find any plastic filler. My body guys tell me there is an excellent chance it was painted once (I thought it looked original) but, more than likely, 40 or 50 years ago. At the only chip in the paint that I found, all I could see was primer and bare metal.
Fairly new radials, all of the chrome is either very good original or fairly new, same with top, tonneau, and side curtains. Brakes appear to be new (wheel cylinders and shoes) and we will be installing new front control arm bushings, rack boots, and tie rod ends. More important....brakes work well.
Currently missing a wiper motor but we have all of the linkage and wiper arms, new motor on the way. All gauges work properly, front end and steering felt great, exhaust is quiet, doors shut properly and fit nicely, grille shell looks almost like new (same with bumpers), seat and interior are all in good condition, and the engine has a nice ribbed tappet cover and rocker cover.
What else? Really doesn't need anything other than the wiper motor, in fact just wet sanded and buffed and the photos show the results....beautiful. AND the car even has an original heater. Maybe add a radio and little else (yes, has seat belts). So, there it is. A super original, seemingly rust and rot free MG TD, starts instantly, runs flawlessly, drives wonderfully. And looks great.
Inventory Number: NE-1952-8

Printer-Friendly version