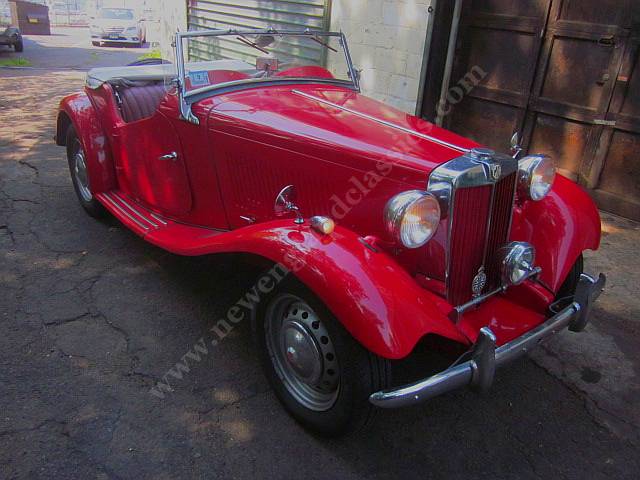 Click to view picture, left/right arrows to scroll
---
Just about as nice a TD as one might hope to find anywhere.....a very original car with 58,000 original miles that has been well kept, babied, and used sparingly. And, for validation, the current title lists the mileage as 'actual.'
We have been caring for this car for nearly twenty years...in 2002, rebuilt the engine (and was on Martha's Vineyard since then....only covered 2,000 miles since 2002...CAR IS IN OUR SHOWROOM, NOW, not on the Vineyard), exterior was (properly) repainted....all fenders, doors, bonnet, fuel tank, firewall painted to match the exterior, etc. and painted, top and bottom. And carefully reassembled with new piping and rubber gaskets.
Looking underneath, wood framing appears to be perfect, no sign of rust, repair, or damage on any metal pieces (chassis, body mounts, etc.), when it arrived, it didn't even need to be steam cleaned. For all intents and purposes, one incredibly clean TD underneath.
Interior is absolutely beautiful.....original red leather seats, lightly worn to show 'real leather' yet not worn out. Same with dash..... in beautiful condition as are the interior panels. All gauges are original and work (including original water temperature gauge), has a working heater, competition seat belts, newish carpets with MG mats. And yes, 'matching numbers.'
Side curtains appear to be virtually new, tan canvas, last owner told me they were rarely used. Same with the top....tan canvas, a bit wrinkled in the photos due to being down all Winter, top frame has been chromed, and has a full tonneau cover.
Brakes have been recently redone and work perfectly. Shocks feel good as does steering and front end. Exhaust quiet, engine bay nice and tidy, wiring appears to be in excellent condition, and even has working turn signals.
Has original air cleaner assembly, rocker cover has been chromed, even has latches for locks on the tool box.
Our tests.....50 psi oil pressure at 3,000 rpm at operating temperature, compression is 150-160 psi in every cylinder, zero smoke cold or hot. Clutch was replaced then the engine was redone, transmission works very well....does not pop out of gear, quiet in 1st and reverse, good synchromesh action, quiet differential.
We just did a full service, oil and filter, lube, check all lights, trans and diff oils, set tire pressures (on nearly new radial tires), starts instantly and runs flawlessly. Soft ride, precise steering, great handling, and engine revs quickly and smoothly.
TDs seem to be vastly undervalued in the marketplace and this seems to be one of the very best as it combines the virtues of 'original' and 'redone.' And is ready for fun fair weather use, shows, or just gracing someone's garage.
Inventory Number: NE-1953-11

Printer-Friendly version