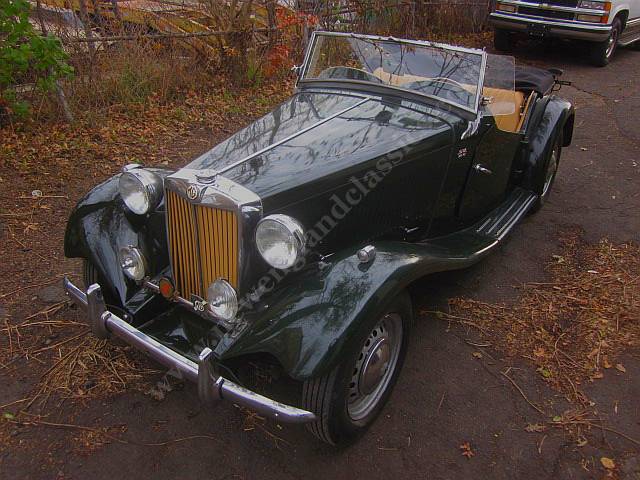 Click to view picture, left/right arrows to scroll
---
A super rare find......a nice, clean, well preserved TD owned by the same family since new....handed down from father to daughter (and son in law) and then son.....nearly seventy years of careful ownership. And always garaged and properly serviced.
Condition: absolutely superb body, no damage, no repairs, no filler (went over it thoroughly with my kitchen magnet, still amply presentable BRG paint (a 'ten footer?'), as our painters tell me, it is in lacquer so it must be every bit of 30-35 years old AND looks great, remarkable original chrome, still shiny and bright, no pitting nor peeling, excellent beige interior, a bit worn but still quite good top and side curtains, excellent engine (135 to 140 psi compression in every cylinder, 50 psi oil pressure, no smoke cold or hot), refinished wood dashboard, amply good transmission (a bit noisy in 1st), good synchromesh, doesn't pop out of any gear, starts effortless in 2nd (and then, voila! an all synchromesh transmission in a TD), clutch works well, new wheel cylinders and brake shoes, everything works, all gauges, horn, lights, etc.
Wherever I looked underneath, seemed fine, excellent chassis, body mounts, and wood framing (much of which is visible underneath), sort of confirming a life of being garaged.
Has new seat belts, tires look fine, new stainless steel exhaust, starts instantly, runs and drives very well, really a wonderful example and one of the absolute best 'buys' in a fun, classic English sports car with the advantages of a folding windshield, good full weather equipment, excellent ride, steering, and handling, and a lively, willing engine that defines 'classic motoring.'
But a hint on an interesting part of this car's history and a telling way of validation of always being garaged: a perfectly preserved rear bumper sticker reading 'Kennedy Johnson.' WOW......near sixty year old sticker, still like new.
Inventory Number: NE-1953-14

Printer-Friendly version