Inquire about price
1956 Morgan Plus 4 (SOLD)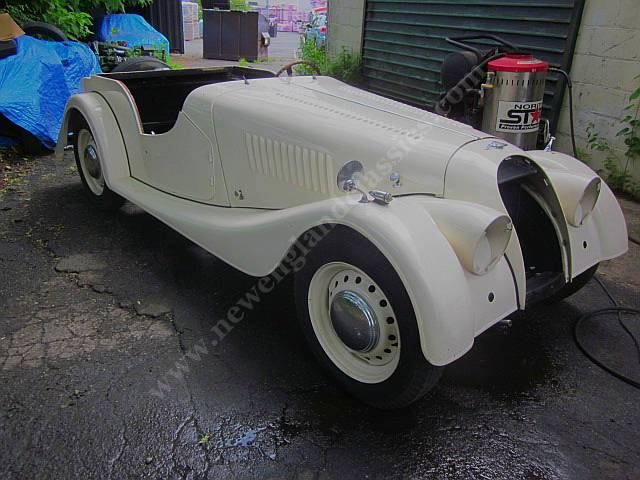 Click to view picture, left/right arrows to scroll
---
A most unusual car.......purchased in 1956, taken to a local body shop in 1965, ABANDONED and sold to the shop owner, put into a warehouse, taken out thirty years ago for new paint, partially disassembled, ZERO BONDO, and left to sit. Inside.
Now.........16,000 original miles since new, sitting for 54 years ('sleeping beauty?') and ready for completion.
Our plans..........remove the engine, effect a complete rebuild, install new dual master cylinders, new wheel cylinders, flex line, and brake shoes, do the interior in deep red (but can do it in any color), new tires, rebuild all of the gauges and reface them, on and on. BUT, we can finish this car any way a prospective buyers wants.
All of the wood is fantastic, same with the sheet metal, chassis, and can't imagine any wear in the trans or back axle. Some parts are missing but readily available, we do have a grille, seats, bumpers, and everything necessary to do the interior AND have (on order) running board strips, all of the lights, mirrors, and most everything else. Wiring harness looks great, same with radiator and other parts.
So, there it is. Call for pricing and ideas on finishing the car.
Inventory Number: NE-1956-6

Printer-Friendly version