$36500
1957 Morgan Plus 4 Two Seat Roadster (SOLD)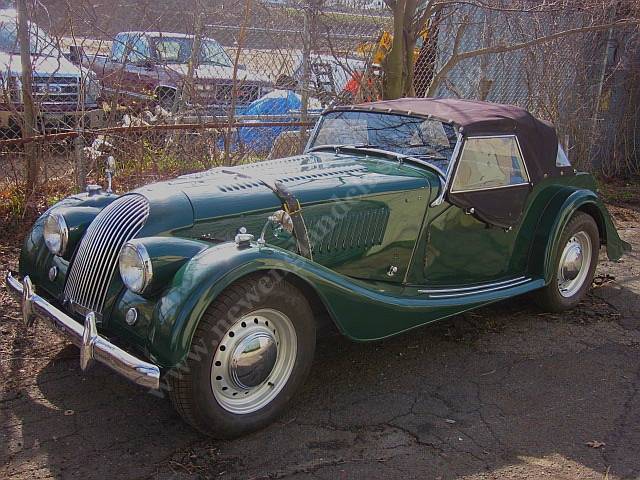 Click to view picture, left/right arrows to scroll
---
Just in......quite a find, 53,000 miles since new, last owner lovingly cared for this car for many years, excellent body with show quality deep green paint, rechromed original bumpers, windshield surround, thermostat housing, oil filter canister, breather pipe.....some wonderful detailing.
Rebuilt engine and SU carbs, brakes done, all original creme faced instruments in very good original condition (and all work properly), engine bay detailed for show use, very good top, side curtains, and full tonneau, Banjo style steering wheel, excellent wiring and electrics, unusually quiet Moss gearbox, have owned Morgans continuously for 42 years and have driven few that could begin to compare with the smooth performance, excellent steering, comfortable ride, and (of course) fantastic originality of this car.
Our tests....155 psi compression in every cylinder, 60 psi + oil pressure when warm, zero smoke, quiet valves, no oil leaks, very impressive.
When compared to its nearest competitor, the MG TF, this Morgan offers lighter weight, nearly double the horsepower and torque, virtually unbreakable transmission and back axle, and a factory that supports most any part ever needed. Which, in itself, is amazing.
A really great Morgan and ready for show and fun road use.
Inventory Number: NE-1957-12

Printer-Friendly version