$11900
1958 Morris Minor 1000 Convertible (SOLD)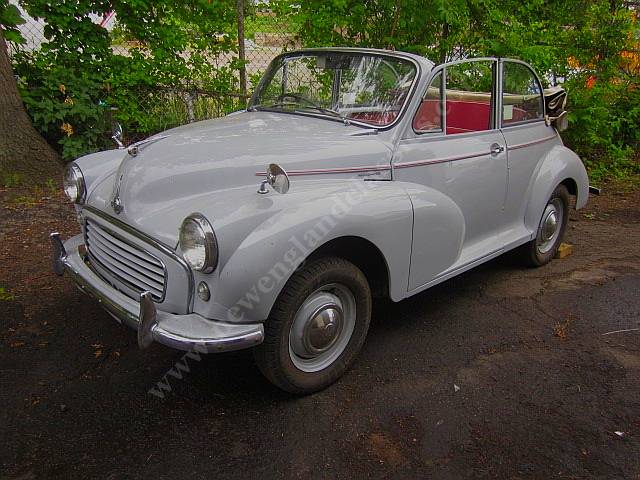 Click to view picture, left/right arrows to scroll
---
Wonderful car.......27,000 original miles, a number of years ago, underwent a comprehensive professional body/chassis restoration.......see photos....new floors, stripped to the bare metal, done as a labor of love by car dealer for a good friend..
Excellent original interior (other than carpets, which were replaced), chrome is very good, top is older but fits well, just had a valve job (all new valves and seals) and perfect compression. We dropped the oil sump and cleanred it our, cleaned the oil pickup, checked the main and rod bearings (all standard), replaced the rod bearing (as a precaution), by some people's standards, all of this might constitute a 'fresh engine rebuiild.' All gauges work, all lights, handbrake, horn, turn signals, etc. Good tires, brakes checked and wheel cylinders/flex lines replaced, flywheel resurfaced and new clutch assembly just installed, has jack and spare wheel, new seat belts,
Seats four comfortably, a sweet little classic for shows, 'round town, and even capable of 65-70 mph highway speeds. AND, of course, easily fitted with later model BMC engine and transmissions (1100 or 1275). Parts are generally inexpensive and easily acquired. All of which makes this Morris Minor a great 'buy' in the classic car market. And one that COULD be advertised as 'zero rust, freshly rebuilt engine, all new brakes, brand new clutch....' Either way, a very good example of this fun little classic open sedan.
Inventory Number: NE-1958-40

Printer-Friendly version