$23500
1958 MG A 1500 (SOLD)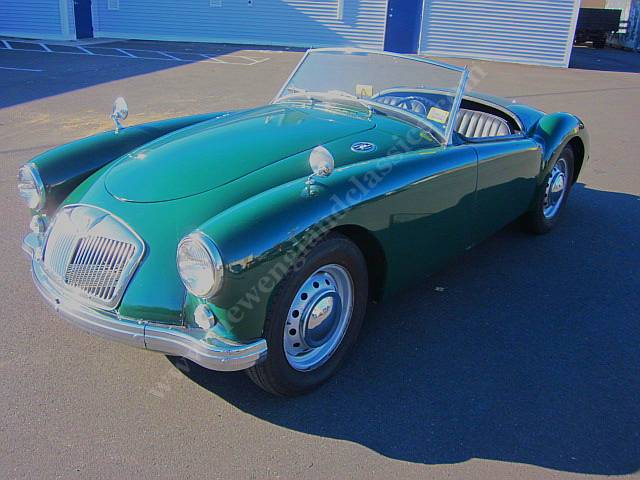 Click to view picture, left/right arrows to scroll
---
A nice, clean older restoration, always garaged and properly maintained.
Excellent body and BRG paint, excellent black interior, all essentially perfect chrome, nice clean engine bay, runs SO well, after I came back from my first test drive, I examined the block casting to see if the car was fitted a bigger engine.
It wasn't. But this is one very strong 1500.....smooth up to the red line, genuinely feels like a 'well tuned' 1600 or 1622cc A engine. And the transmission felt very good as did brakes, steering, ride, etc.
Our tests: compression 140-150 psi in every cylinder, 50-60 psi oil pressure when warm, no smoke hot or cold. Quiet valves, smooth and flexible performance, doesn't miss a beat.
Last owner bought the car in 1994, spent well over $20,000 (at the time) on a body off, frame up restoration. And now, 20+ years later, gave faultless service, always professionally maintained, and with some modest clean up, ready for shows or just fun driving. And the owner only drove it around 2,000 miles over those twenty years.
No weather equipment as the last owner never took it out in the rain. But easily fitted.
Nice detail work throughout, no sign or rust, damage, or repairs, the overall impression is of a nice, clean, basic MGA that runs far better than the average 1500 MGA.
Inventory Number: NE-1958-41

Printer-Friendly version