Inquire about price
1958 MG A 1500 roadster (SOLD)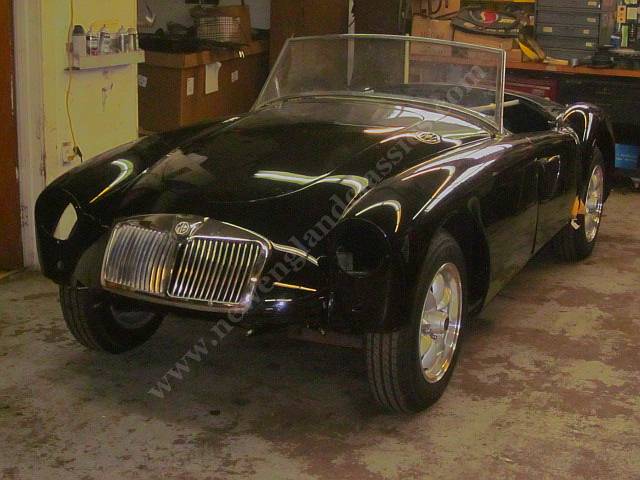 Click to view picture, left/right arrows to scroll
---
A project began with excellent intentions but not finished.
Last owner purchased the car years ago, initiated a first class restoration. Body off, restored and painted in local specialist, chassis was not rusted, cleaned, sandblasted, enameled. Suspension rebuilt as needed, polyurethane rear bushings, new fronts, brakes and shocks done, all new metal brake lines.
Wen over the body with my small kitchen magnet. Didn't find a spec of bondo. Appears to be a virtually perfect body....with aluminum doors, hood and trunk. And the wood floors are new.
Last owner told us virtually everything is with the car, needed for completion. Other than front bumper and a few smaller parts. BUT we have: radiator, carbs, all manifolds, muffler, seat frames, new black leather seat kits (with red piping), carpets, panels, tonneau, new top, side curtains, dash, gauges, new wiring harness, heater assembly, hoses, lights, rear plinths (properly painted), on and on. Box after box with mostly new parts.
Wheels are new Minilite replicas but we can offer correct steel wheels with hbcaps or convert to wire wheels.
IF you want an absolutely 'as new' MGA, this would be an ideal starting point 'cause all of the difficult disassembly work has been done. Fuel tank is cleaned and installed, gearbox tested and in excellent condition, engine was recently rebuilt before the project commenced.
And.....engine.....it is an incorrect 1600 (does anyone care?) BUT we have a freshly rebuilt 1500 (the correct engine) in stock and can work out a deal for a prospective buyer 'as a trade.'
All in all, a wonderful beginning and we have the experience, facilities and expertise to see this car to completion.
Inventory Number: NE-1958-42

Printer-Friendly version