$32000
1958 Austin Healey Bug Eye Sprite (SOLD)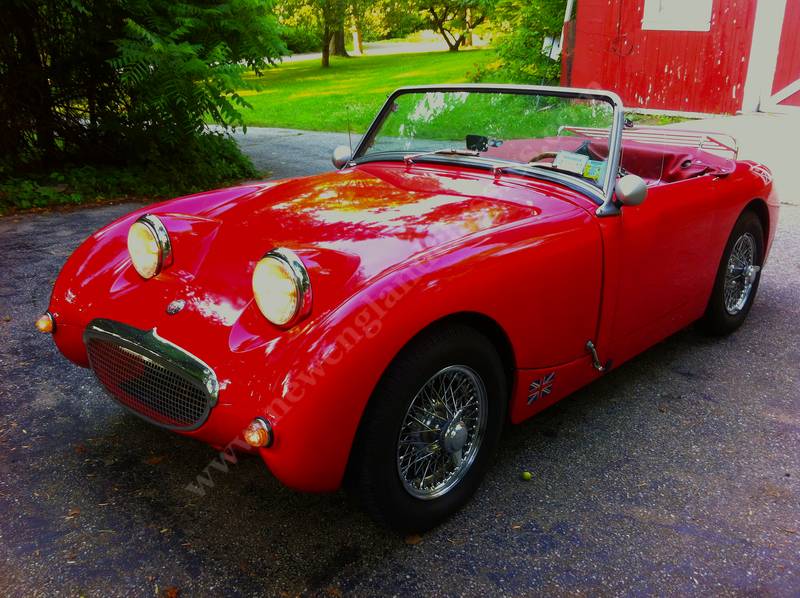 Click to view picture, left/right arrows to scroll
---
Have owned this car for many years and am now considering having it move to another 'home,.' And, yes, have my eye on a replacement.
Lets face it, EVERYONE loves a Bug Eye. But only owners know what they will get. Sure, great looks with a 'happy face' but with 43hp, a fragile, wide ratio transmission, tiny brakes, they are best around town.... and to the beach?
I ALWAYS loved Bug Eyes (who doesn't?) but never cared to own one due to the utter lack of performance and inability to actually go somewhere. Further than ten miles from my house.
Until I found this car. Not only found an incredible Bug Eye but, over the years, tailored it to what I wanted in a fun small sports car.
So here is a summary of what the last owners and what I did to create a 'Super Bug Eye.'
First, an absolute rust free California car with perfect, rust/damage/patch free floor. And excellent body with a wonderful tilt nose making access a snap....very E Type Jaguar like.
Interior is plush, fully carpeted and trimmed, beautifully done dashboard, wood steering wheel, modern stereo/CD with USB input under the dash (as are the speakers). New seat belts, new tonneau, new top, excellent side curtains, and a powerful and effective heater. Have driven it in 20 degree weather and have been comfy/cozy.
Engine: done by Oselli racing in England, bored out 1275 to 1312cc, Cooper "S" higher compression pistons , balanced, large baffled competition oil sump, vernier timing gears, gas flowed aluminum head, roller rockers, twin SUs, headers, electronic ignition, high performance clutch. A $10,000+ engine that starts instantly, runs flawlessly, and never misses a beat. Truly a jewel.
From past experience, I chose small 1 1/4" SU carbs for more flexibility, greater economy, and the 'look' of a stock engine. Certainly with 1 1/2" SUs or a 45 DCOE Weber, there would be far more power at the top end but, as it is now, this car will easily cruise at 95 mph, hit 110 mph, and revs freely with great acceleration....
....through the gears. AND WHAT GEARS!!!!!!!! A rebuilt Ford T9 all synchromesh close ratio five speed transmission coupled to a 3.9 final drive and hardened steel racing axle shafts. At 70-80 mph, turning low revs and very pleasant for fast cruising.
Moving along.....front disc brakes coupled to a power brake servo. Stops well. And suspension....thick front sway bar, all new shocks, chrome wire wheels with new 155 Michelins. Great stopping and handling AND incredibly good ride. NOT stiff. Which is possibly the best aspect of this car.
And.........twin electric fuel pumps, new radiator with electric cooling fan, oil cooler, runs cool on even a 100 degree day. And....spotless detailed engine bay, battery cut off switch, new wiring harness, reduction drive racing starter, alternator replacing the old generator, halogen headlights wired through a relay, wind wings, interior light under the dash, EVERYTHING I COULD POSSIBLY imagine....I did. And, if you are curious, cost over $40,000 when the bills were tallied.
The whole idea was to make a basic, simple, reliable, easy to service alternative to my 1965 Lotus Elan S2 s/e. Not quite as quick but much easier cruising in 5th gear, not quite as good handling or ride but sufficiently close, but never ever a worry of anything breaking.
Most recent 'cruise' was a 135 mile trip through Western Connecticut. Some highway driving (at 90+ mph with my radar detector on), lots of winding back roads, and when we got back, filled it up with 4 gallons of gas and.....we got nearly 34 miles to the gallon. Incredible.
I am not a drag racer so stuffing a small block Chevy into the engine bay wasn't my style. But with its probably 90+ hp Oselli engine (capable of substantially more with bigger carbs), this 1350 pound sports car is a dream to drive. Even on trips (hence the luggage rack). Runs cool on the hottest day, utilizes the most expensive components (the T9 trans kit was $3,800, the roller rockers $1,400, the alloy head $1,200, the racing axle shafts $550 each), it all works together faultlessly, and this car needs absolutely nothing.
And yes, beautiful paint and detail work and ready for any show,. Where it is always a standout.
Car is in my barn so a viewing requires an appointment.
Inventory Number: NE-1958-43

Printer-Friendly version