$33000
1958 Triumph TR3A (SOLD)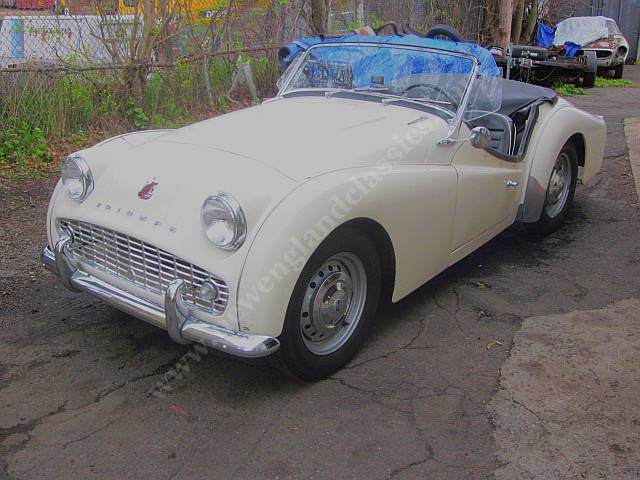 Click to view picture, left/right arrows to scroll
---
Quite a find, just purchased from the ORIGINAL woman owner in Florida.....28,000 actual miles since new.
Starts instantly, runs flawlessly, 75-90 psi oil pressure when warm, zero smoke, pulls incredibly well, shifts perfectly, all original gauges work, recently got a new interior, brakes completely done (calipers, wheel cylinders, etc.), excellent chrome and trim, went over the body with a magnet, found zero bondo, paint is older but looks fine, fairly new top and side curtains, wiring is excellent, floors are excellent, nice throaty exhaust, steering far better than average. Exactly what one might expect from a super low mileage one owner car.
Great car exactly the way it is BUT...........geez, what we could do to this car. Wire wheel conversion? Repaint in any color (including the engine bay, door jambs, under the bonnet and boot lids? Could easily turn this car into a 'dream come true' for a future owner.
And they are nice cars.......110 mph performance, easily cruises at 80 or 90 mph, disc brakes, comfy ride, and those fabulous classic lines, cut down doors, and dashboard fill with gauges and switches. Reliable, easy to repair, plentiful availability of parts, effortless to own.
In our showroom, ready for sale.
Inventory Number: NE-1958-46

Printer-Friendly version