$33500
1959 Triumph TR3A (SOLD)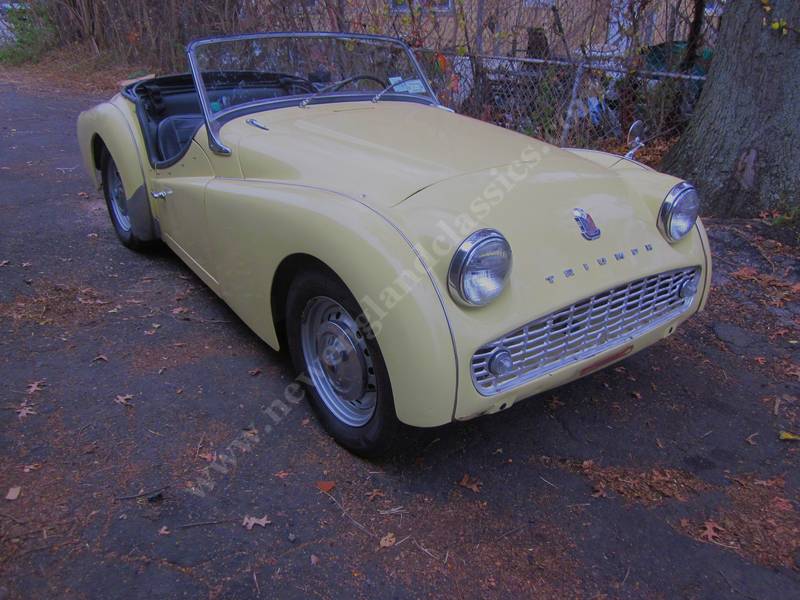 Click to view picture, left/right arrows to scroll
---
Last owner drove this car from California to Wisconsin in 1976 where it then sat until 2016 in a climate controlled garage. Which is when the restoration began. Now, done and having 1,000 break in miles.....
Engine, transmission, Laycock overdrive and suspension rebuilt as needed. Same with brakes. New clutch and distributor. Excellent running and driving.
Floors appear to be new....are excellent/perfect. Chassis also looks great, no rust, no damage, no repairs. Went over the body with my kitchen magnet....no sign of bondo anywhere. A miracle for ANY near sixty year old car.
Engine is smooth and powerful, freely revs to the redline, shifts well, excellent synchromesh action, and overdrive clicks in and out almost instantly. Steering seemed unusually good for this type of car, minimal play and a feeling of precision often lacking in TR3s.
Top and side curtains appear to be new, chrome is great (mostly new). And on the subject of changes and improvements....... we can add a stereo, luggage rack WHATEVER a buyer wishes. All done in our own workshops.
(when I drove it to our office, I was hitting 100mph at times and the car was stable, smooth, and not turning terribly high rpms. VERY impressive)
This is a great looking, driving, and running TR3A with the added virtue of overdrive. No rust, no bondo, everything being correct.
Inventory Number: NE-1959-42

Printer-Friendly version