$57500
1960 Condor Formula Junior (SOLD)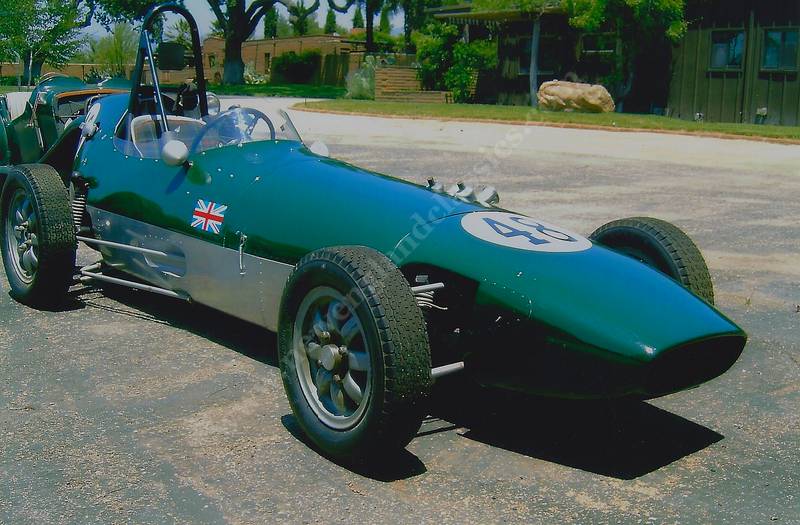 Click to view picture, left/right arrows to scroll
---
Chassis number one of six or seven made.......an advanced 'period' early Formula Junior.
Completely restored, crack tested original multi tube space frame chassis, additional gussets added, sandblasted and painted, two easy practice sessions on rebuilt race prepared 1,000cc BMC engine, Derrington intake and exhaust manifolds, rebuilt twin H4 SU carbs, BMC gearbox with side mounted shift linkage, oil cooler with new oil lines, all sspension parts crack tested, overhauled, glass bead blasted, painted in Hammerite silver (as original), all grade 8 hardware used.
Steering rack overhauled, removable steering wheel fitted, new Spax adjustable shocks with adjustable ride height, springs cad plated.
Brakes: Alfin front and rear (inboard), original Cooper style alloy wheels (actually, these wheels were built by Condor and supplied to Cooper). Dunlop L Series vintage race tires.
All original alloy body (and in excellent condition), similar esthetically to a Lotus 16 or Vanwall, all stainless steel or chrome hardware.
Fire system, fuel cell, Monxa fuel cap, all in all a wonderful vintage racer, easy to service, easy to drive, and potentially very competitive in its class.
Conceived and built by Ted Whiteaway (well known English race driver, 7th at the 1959 LeMans in an AC Bristol...behind 2 Aston DBR1s and 4 Ferrari 250 Berlinettas), production ceased after he suffered a bad car accident. Two cars were originally sent to the USA, this is one of them. Designed for BMC, Triumph Herald, or Ford 105E engine, very similar to the period Moorland, Gemini, Elva and other English front engined Juniors. And while the BMC engine can produce a lot of power (ask any SCCA National H production racer), the alternate engine that was offered by the factory is the potent Cosworth Ford 1,000 or 1,100cc engine. AND those engines can be made to SCREAM.
Having driven a few front engined Juniors in races at Lime Rock (Elva, Stanguellini, Moorland), I can confirm that they are wonderful cars to drive.....with a ready-to-race weight of (typically) under 900 pounds and with (depending on engine and state of tune) 80 to 110hp, these are real, sophisticated, fast racing cars they go where they are pointed, have sensational brakes, and a 'kick' that is hard to describe.
And, imagine, being the ONLY driver of a Condor in your race, in your club, in your country, maybe in your hemisphere!
Inventory Number: NE-1960-32

Printer-Friendly version