$25900
1960 MG A 1600 Mk I (SOLD)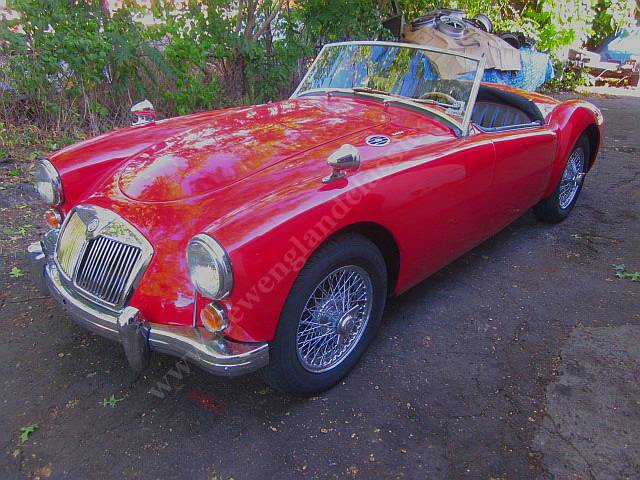 Click to view picture, left/right arrows to scroll
---
A beautiful MGA, we sold twelve years ago, last owner doubts he ever put even 1,000 miles during that time (not 'cause of car issues, it was just used to zip around his town).
Strong 1800cc MGB engine (a word on MGA engine conversions....with 101,000 MGAs built, sorry, the chance of retiring on the revenue created by the sale of 'your' MGA will not cover your retirement. Hence, the lack of perfect originality really doesn't affect these cars. And, anyway, unless you know where to look, who could tell?), and not just ANY MGB engine but the ideal (and rare) perfect engine for this application....a very early B engine which has the tach drive built into the block (like all MGA engines) allowing use of the original mechanical tachometer, and its original H4 SU carbs. Exactly the same as an MGA. Hence, some thought went into this conversion.
And how does it go? Feels more like an MGA twin cam than a standard A. With 95hp (later model twin cams were 100hp), it GOES>>>>>> Quick and an absolute delight. Just for fun, drove it around town starting each time in 2nd gear...effortless. All of which makes this car a step up from most of its contemporaries.
The rest? Last owner told me he just put over $7,000 in the car...new brakes, new cloth covered wiring harness, and new paint. Chrome seems to be fairly new, engine bay is clean but a buyer could have us paint it in matching red, everything works, steering, ride, handling, and braking are all first rate.
Has disc brakes, has wire wheels, has a nice wood steering wheel, exhaust is quiet, has 'period' racing seat belts, what else? Well, no top, frame or side curtains but all are in stock and can be added IF one wants to take it out on a rainy day. However, much like the last owner's use, was only a fair weather car and the tonneau would keep it nice and dry in an unexpected drizzle.
MGAs are easy to service, inherently quite reliable (with the added advantage of the new wiring harness and all of the electricals...voltage regulator, generator, coil, flasher, etc.), parts are plentiful and generally very inexpensive, and there are things we can add that can make this car more reliable than when new. And fact, if a buyer wanted a REALLY sensational MGA, we can install a modern 5 speed c/r transmission (which we did on the last MGA I owned).
All in all, as fun an MGA to drive as any we have seen. Starts instantly, perfect oil pressure, zero smoke, smooth and powerful, the higher gearing of a 1600 makes cruising at speeds up to 90 mph effortless (and aren't speeds above that a bit academic?), excellent chassis, wood floors, body mounts, battery boxes, etc....hard to imagine a better compromise in a classic sports car.
Inventory Number: NE-1960-50

Printer-Friendly version