$21500
1961 Volvo PV544 (SOLD)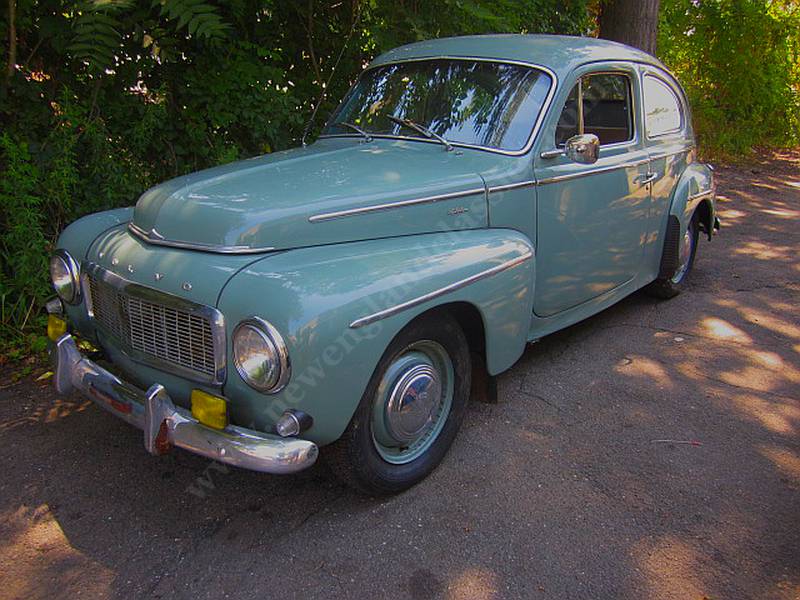 Click to view picture, left/right arrows to scroll
---
Absolutely spectacular car.......66,000 original kilometers (42,000 miles), absolutely rust free chassis, floor.....ORIGINAL Sea Foam green paint sufficiently clean for show use, remarkably well preserved original chrome and interior (although driver's bottom cushion is worn through), runs like new.
Imported from Sweden by a local fellow, this car must have lead a charmed life. And, has the MOST unusual 'option' of a complete propane system.....tank, carb adapter, controls, etc. And if you know 'propane' for automotive use, it just doesn't seem to cause any internal engine wear. But no worry, car can run on either gas (the kind one gets at a local gas station) OR propane.
We took it out of dry storage where it has been sleeping for 15+ years. Drained and cleaned the fuel tank, cleaned the fuel line, rebuilt the fuel pump, and remarkably....stated instantly and ran flawlessly. And little by little came alive. We cleaned and adjusted the fuel sender, gauge works properly as does the speedo and water temp gauges. Cleaned the brake shoes and inside the drums, checked the wheel cylinders, brakes feel perfect....as does the handbrake. We are fitting new tires, a new battery, lubing front end, and it is all coming together. Runs beautifully, drives like new.
Truly a 'find' and is like looking back in time. One incredibly well preserved PV544. And IF you are unfamiliar with the model's virtues, they are many. A strong five main bearing 2 liter B18 four cylinder OHV engine, all synchromesh 4 speed transmission, very light monocoque welded chassis/body, rear Panhard rod for excellent rear axle location, coil springs at all four corners, precise steering, excellent ride, handling, and GREAT (as one would guess) as a 'Winter' collector's car. And looking like the 1941 Ford coupe on which its design was based.
Granted, the seat facings can use repair....which we can do for a new owner. But other than doing the seats, perhaps removing the propane fuel system, one can revisit an older time and enjoy one of the best early sports sedans every built.
Inventory Number: NE-1961-30

Printer-Friendly version