$35000
1961 Triumph TR3A (SOLD)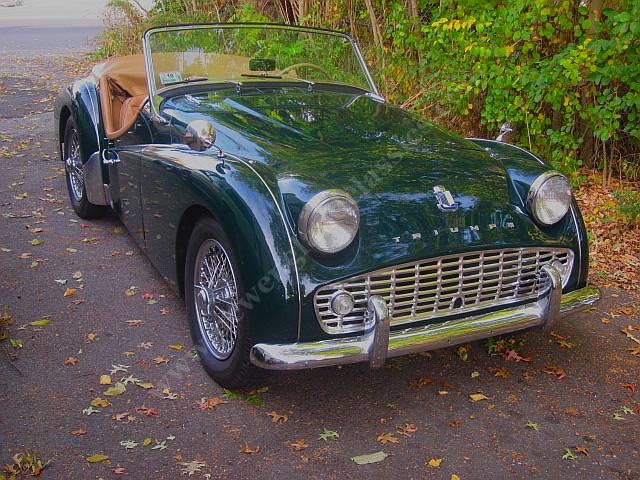 Click to view picture, left/right arrows to scroll
---
Underwent a comprehensive body off, frame up restoration in 2005, has been driven around 3,500 miles since.
Always a rust free California car, when taken apart....engine completely overhauled, a rebuilt all synchromesh 4 speed TR3B transmission installed, chassis and suspension done, new wiring harness, all gauges rebuilt, mostly new chrome, new leather seats, all new interior carpets, panels, new tan top and curtains, new matching tonneau, wire wheels, new exhaust, as extensive a restoration as we have seen.
AND.......even better..........was converted to rack and pinion steering eliminating the one weak point in a TR3s basic design. Gone forever is the vague worm and peg steering and now, excellent steering, handling, directional stability, makes a huge improvement.
These cars are a perfect compromise for one who wants the style, enjoyment, and pleasure of driving a classic English sports car. The simple,.reliable 2 liter engine produces over 100hp offering 110 mph performance, now with the rack and pinion steering, excellent road manners, great style,. comfortable, and with the new weather equipment, ideal for a quick drive on a mild Winter's day.
Perhaps it boils down to this........IF you love the way this car looks, you will not be disappointed in the way it runs and drives. Far more performance than any period MG, less clunky around town than a Healey, and a lot easier to service and maintain than a Jaguar. Ideal for show, fun drives in the country, and just admiring in one's garage.
Inventory Number: NE-1961-31

Printer-Friendly version