$33500
1961 MG A roadster (SOLD)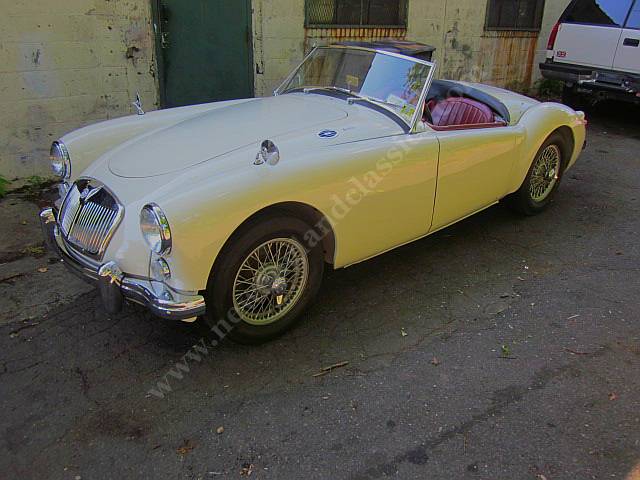 Click to view picture, left/right arrows to scroll
---
A beautiful, restored car. new fender welding, painted under and behind the dash, in the engine bay, trunk, etc. A complete, body off, frame up restoration. All new rubber seals, beading, all of the chrome (including windshield surround, grille, bumpers, etc.appears new.
Rebuilt engine and transmission, SO unusual to quickly shift into 2nd and not beat the synchronizers, 65-70 psi oil pressure when warm, zero smoke cold or hot, 165-170 psi compression, quiet running, responsible, revs easily. Excellent steering, brakes (discs), on and on.
We can see a new cloth covered wiring harness, most of the electrical components appear to be new, all gauges and switches work. 45,000 indicated miles.
Seats redone in leather (and appear to have barely sat on), new top, new tonneau, new side curtains, nicely detailed dashboard, like new under and behind the dash, wire wheels with new radials and new chrome knock offs, converted to negative ground, new stereo/CD installed, AND.......I went over the edges of the body with my trusty kitchen magnet and found no signs of plastic filler. VERY rare in any near sixty year old car.
Not much left, runs and drives like new, ready for show or fun driving. As a Mk I MGA, and with the more powerful engine, higher geared back axle (4.1 instead of 4.3 in 1500s) and disc brakes, one can cruise all day at 60,70, 80, or more mph, superb ride, steering, handling, and braking which is why MGAs, such as this car, are really the ideal compromise in a classic English sports car.
Inventory Number: NE-1961-32

Printer-Friendly version