$37900
1962 Morgan Plus 4 two seater (SOLD)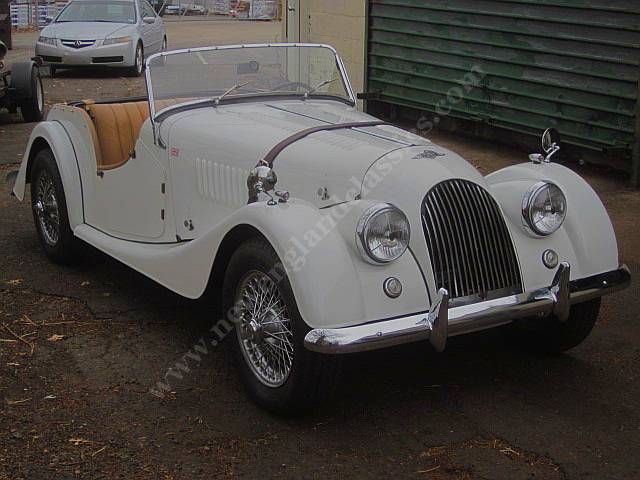 Click to view picture, left/right arrows to scroll
---
A beautiful, low mileage car ready to use. 59,000 miles since new. And one of only 159 Plus 4s built in 1962.
Excellent body, incredibly good fit of doors and panels, passed the 'magnet' test searching for plastic filler. None was found and checked the bottoms of the doors, under the doors, along the fender edges, the doglegs, as perfect a body as we have ever seen. With very very nice (recently done) white paint. No bubbles, no cracks (and cracks on the top of the fenders and around the wing lights are VERY common), all in all, really exceptional.
Just drove it 15 miles at speeds up to near 90 mph....no smoke, perfect oil pressure, disc brakes worked well, very good ride, fantastic.
We did a compression check, 180-185 psi in every cylinder (probably no different than the day this car left the factory), quiet valves, no dreadful oil leaks, carbs seem to be properly adjusted, REALLY strong performance,
The rest.....all new tan leather interior, really nicely done, very nicely trimmed rear deck area, excellent wood dash with all working original creme faced gauges, new top and side curtains, new tonneau cover, a good set of painted wire wheels with 165SR15 radials, mostly new chrome throughout, wiring harness looks to be in good condition including the ancient cotton loom covering, has a new fuel pump, new master cylinder and new flex lines, front end is in good condition (a little bit of play but not worth redoing), all wheel bearings cleaned, repacked and fitted with new seals, all new splined hubs, chassis looks to be absolutely perfect...didn't see a single crack, patch, rust hole, even around the area where the exhaust goes through the chassis. And wherever one can see the wood floors and framing, also looks to be perfect. And when you consider this Belgian ash frame work is well over fifty years old AND left the factory without any preservative.....tends to make one suspect this car was garaged every day of its long (and happy) life.
Really the best all around Morgan........sufficiently new to have disc brakes (staring in 1959) , sufficiently old to have the classic creme faced gauges (ended in 1962-, with 100hp, tons of torque, plenty of performance (remember, this car weighs less than a 63 hp MG TF 1500), transmission has good synchromesh and is quiet in operation, no noise form the differential, what else is left?
One wonderful Morgan. And if white is not your choice of color, we can certainly repaint this car in any alternative color(s). Take your pick....green, black, red, all go wonderfully with the tan interior. And now worry about picking a 'wrong' (aka non original) color as Morgans were always available in ANY color chosen by a prospective buyer. Even, according to the Morgan legend, one done in a color to match a woman buyer's nail polish.
And, remember, MORGAN is still in business....since 1910. Parts are easy to get, service is very simple, thus owning a nice, clean, rust and rot free Morgan is a rewarding experience. (and I have owned Morgans for 43 years and was out in one first day of Winter....with the top down)
Inventory Number: NE-1962-32

Printer-Friendly version