$21900
1962 MG A 1600 Mk II (SOLD)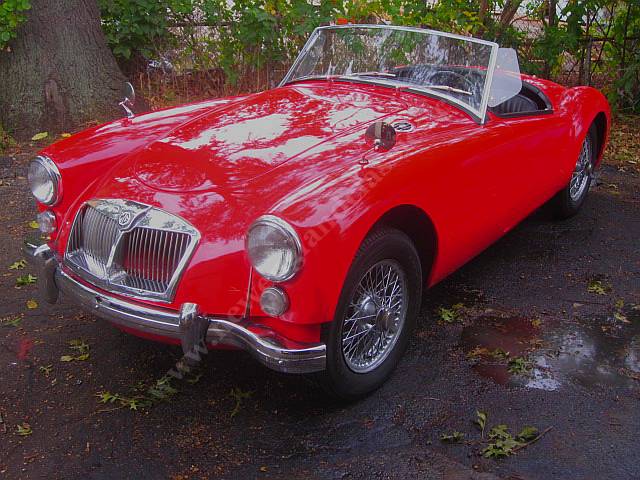 Click to view picture, left/right arrows to scroll
---
A very nice car, clearly loved and cared for by its last owner, now with us and ready for sale.
Very nice paint....not really ready for a world class concours but for general street use and low key shows, fine. Nicely painted in the engine bay and all four wheel wells. Same with interior....carpets, panels seats all in good condition. And dash, gauges, switches are all correct and in very good condition.
Has been fitted with an 1800cc MGB engine, a rather common swap, now with 98hp, performance is roughly similar to a later model MGA twin cam (which had 100hp). Smooth, flexible, powerful, just what the average MGA could use. And being that the engine is a pre smog engine and the car is fitted with early H4 SUs, the engine bay is virtually identical to a stock MGA.
We checked the front end, can see a lots of new hardware, rotors, pads, springs. And nice and clean, with all of the wheel wells in matching red. Underneath, chassis, wood floors, inner sills look very good and even the battery boxes (a source of rust on most MGAs) are in very good condition.
All of the electrics and gauges work, runs 65-80 psi oil pressure when warm (ideal), no smoke, compression was 155-170 psi in every cylinder, carbs seem nicely tuned, wiring in the engine bay looks good, chrome (for the most part) looks fairly new, all in all, a nice example of this relatively rare MGA model. Of 101,000 MGAs, around 9,000 were Mk IIs.
At the moment, we are fitting a good set of top frame bows, a new convertible top, and a good set of side curtains. And the car was just fitted with new seat belts and a new tonneau cover.
Starts instantly, runs very well, no clunks, no rattles, overall a nice, clean, excellent driving MGA Mk II at a very competitive price.
Inventory Number: NE-1962-33

Printer-Friendly version