$19900
1964 MG B roadster (SOLD)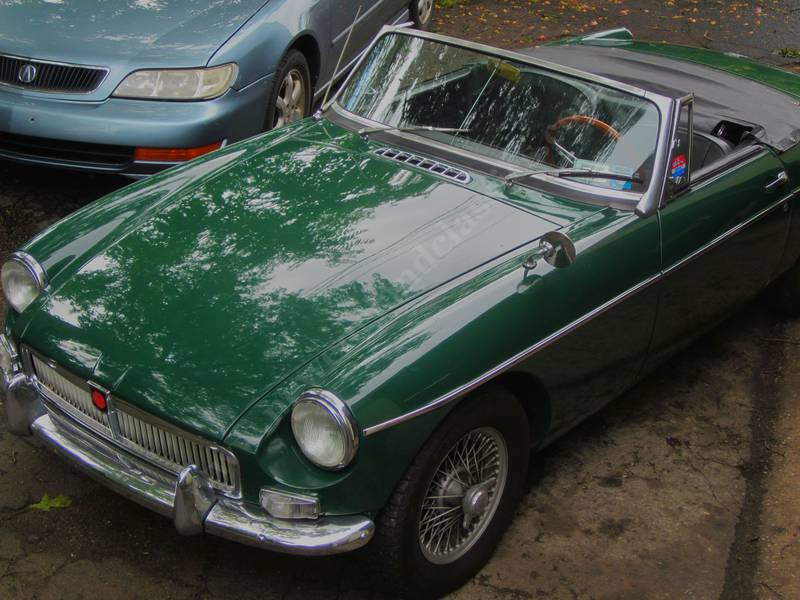 Click to view picture, left/right arrows to scroll
---
A beautiful, thorough restoration on one of the most desirable MGBs....a beautiful, low mileage, rust free 1964 roadster. In very close to immaculate condition.
Paint has a literal 'mirror' finish. And I went over all of the edges with my kitchen magnet, lower part of doors, rockers, quarters, etc.....no sign of bondo anywhere. What appears to be a perfect body.
"Like new" mechanically, the 3 main bearing engine revs in a way that a 5 main doesn't. Smooth, powerful, easily gets up to the redline in all gears, didn't once beat the synchromesh in the trans, runs 80 psi oil pressure when fully warm, even idles at 40 psi. AND zero smoke, cold or hot. It simply doesn't come any better than this.
Brakes are excellent, same with ride, handling, steering, every gauge and switch works, wiring looks to be in great condition, carbs rebuilt, has wire wheels, new radials, even has its original lightweight alloy hood.....most of these have been bent and damaged and replaced with later model MGB steel hoods. But not this car.
Details.....new top, restored top frame, spotless trunk, expensive Nardi steering wheel, never had a radio, excellent chrome and trim.
This is the best early MGB we have ever had in 44 years of business and hundred and hundreds of MGBs sold. It starts instantly, runs flawlessly, drives wonderfully, and is ready for a serious show.
In reality, it is like going back in time and finding a near brand new early MGB. And a rare opportunity for some lucky buyer.
Inquire for Price
Inventory Number: NE-1964-29

Printer-Friendly version