$64500
1965 Austin Healey 3000 Mk III BJ8 (SOLD)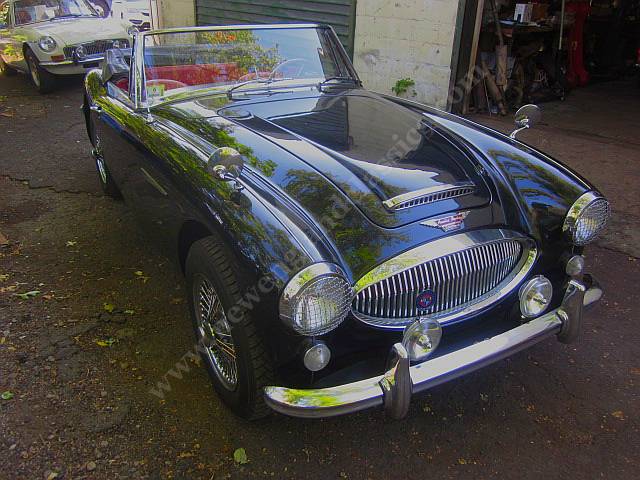 Click to view picture, left/right arrows to scroll
---
A really fine example....beautiful exterior (defining the term 'paint with a mirror image'), excellent original interior (other than carpets which were replaced), starts instantly, drives flawlessly, quiet running, overdrive kicks in and out perfectly, all gauges and electricals work, new seat belts front and rear, excellent chrome and trim, fairly new top, tonneau, chrome wire wheels, brakes work perfectly, zero smoke, excellent oil pressure, stainless steel exhaust, what else is there?
Floors and inner sills look great, nice and clean in the engine bay, a wonderful Healey and in (my opinion) the best and most dramatic color combination....black with red interior.
These are really great cars and they seem to get better with age. Imagine, a nice, comfortable reliable robust car with the simplicity of a humble MG...solid back axle, pushrod engine, twin SU carbs, simple. Easy to service, and wonderful driving.
And when the repair bills come due, imagine the expense of owning ANY Jaguar or Aston or any other classic. Old Porsches? Old Alfas? They can't compare with the highway cruising ability of this 2.9 liter Healey. And look at their prices!!!!!!!!! Geez, in this inflated market, a humble VW based Porsche can cost many times the cost of this Healey. Making these real bargains in the world of classic highway cruisers.
(which is why I own an identical example)
Just in, a joy to drive, and immediately available.
Inventory Number: NE-1965-27

Printer-Friendly version