$43000
1966 Lotus Elan S2 s/e (SOLD)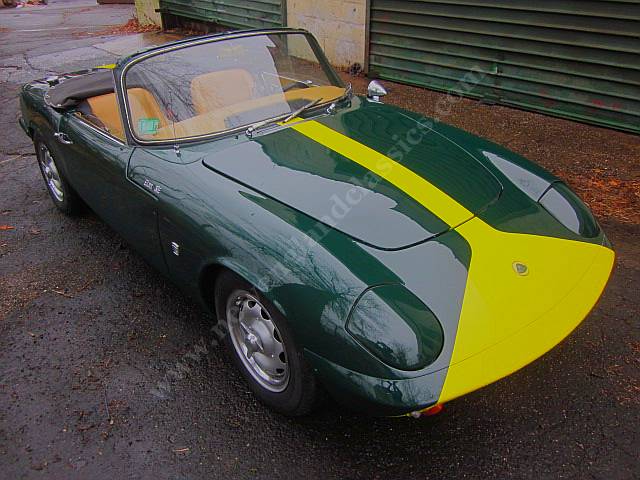 Click to view picture, left/right arrows to scroll
---
A fabulous restored example of the most legendary of all small sports cars. The car once described in an English magazine as 'the ultimate in Squirtability.....the ability to 'squirt' through traffic.'
And it does.
A 1400 pound sports car with probably 130+hp........tubular space frame Spyder chassis (much stronger than stock, allowing easier access to mechanical components, powder coated for long term reliability....lets face it, ALL Elans are 45-55 years old, the original chassis were thin folded metal, and extreme chassis rust is very common), excellent fiberglass body (just painted for the first time.....over excellent body with original paint....no cracks, no deterioration, done in base coat/clear coat acrylic, hand wet sanded and buffed...and truly a 'mirror' finish), mostly original interior in great condition, new wood dashboard, new top, new cloth tonneau, small racing style steering wheel, reduction gear starter motor, converted to negative ground, new stereo/CD with USB input, new wiring, mostly new electrics.............
Rebuilt suspension with new Rotoflex couplings, rebuilt four wheel disc brakes, converted to a modern (and far safer) dual master cylinder, Aeroquip metal brake flex lines, adjustable ride height, stainless steel exhaust, original Lotus brand center lock racing wheels with three ear knock offs, Michelin radials, and..........
Engine just rebuilt, balanced, gas flowed twin cam head, high lift camshafts, tubular headers, twin 40 DCOE Webers, lightened flywheel, new clutch, freshly rebuilt ultra close ratio transmission (FAR more fun to use than the more common Elan 'semi close ratio' units usually found), new 3.55 differential (a very hard to find unit and the highest ratio offered for better highway cruising), original 3 core radiator just cleaned, pressure and flow checked, thermostatically controlled electric cooling fan, twin electric fuel pumps, and..........
Aluminum fuel tank, halogen headlights, racing battery cut off switch, 3" racing belts, carpeted trunk, rebuilt gauges, LED gauge lights, even the interior light works on the door jamb switches. A LOT of time, money, and effort have gone into this fabulous example.......one of 1250 Series 2s built, one of far fewer s/e ('special equipment' indicating higher lift cams and knock off wheels), there isn't much on this car that has not been rebuilt, replaced, improved, or restored.
A rare opportunity to purchase one of the absolute great sports cars of all time and probably the best all around Lotus Elan model. In its day, with more advanced engineering that Porsche, Ferrari, Maserati, or Aston Martin. Sophisticated chassis and suspension, four wheel disc brakes, one Weber throat per cylinder, super close ratio transmission. Yet easy to service, reliable, body cannot ever rust, and BEST OF ALL....fun to drive at speeds that approach the legal limits. Sure, ego fulfilling to tell your buddies your car will cruise at 160 mph but not so much fun to call them asking they bail you out after being arrested for Reckless Endangerment. An Elan is just about THE ideal car for the proverbial winding country road, superb steering and handling, rapid acceleration, sure braking, great ride, and incredible 'feel.'
Inventory Number: NE-1965-28

Printer-Friendly version