$38000
1966 Morgan 4/4 Series V Competition (SOLD)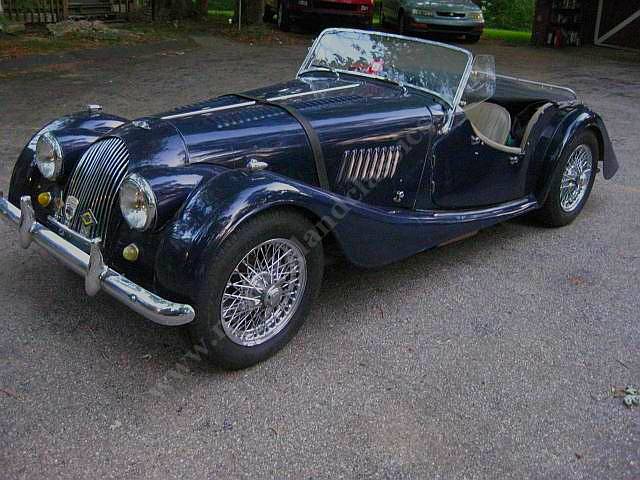 Click to view picture, left/right arrows to scroll
---
A car I have owned for years and now find superfluous to my needs ("too many Morgans in the barn")
First a quick history of post war Morgans....after WWII, Morgan put their pre war 4/4 (4 wheels/4 cylinders) back into production with a small (pre Triumph)) Standard engine. And with less than 40hp, not exactly a stunning performer.
In 1950, Morgan decided to go 'up market' by fitting a 2 liter engine...,and the engine they ultimately chose was the new Standard Vanguard 2088cc OHV unit. With the extra power and torque, the new model was named the 'Plus 4.' And as the 1950s and 60s rolled on, this engine first went to 1991cc (but with a better head and twin SUc) as the 90hp TR2, then TR3, and finally the 2138cc TR4,and TR4A engine (with 105hp).
Meanwhile, Morgan reintroduced the '4/4' in 1955 as a small, inexpensive, low powered touring car by offering a lower, lighter Morgan with an 1172cc Ford Side Valve engine of 36hp. And with a 3 speed transmission. However, again, as the 1950s move on to the 1960s, Ford engines of 997cc, 1340cc, and 1500cc were used. And by the late 1960s, these sleek, very light cars received the potentially potent 1600cc Ford Crossflow engines. With 95hp in a car listed at 1456 pounds.
I always liked 4/4s of which relatively few were built and even less exported to the US. The lighter engines and transmissions allowed softer springs, better ride, lighter steering, and with a 'tuned' engine, a lot of performance.
Which leads this little story to my car. A super lightweight 4/4 Series V Competition (the 'competition' designation has nothing to do with racing, it indicats top bonnet louvers, a tachometer, and a more powerful engine using a Weber instead of a Solex carb).
We purchased the car in the UK in the mid 1980s, bought it over here, sold it to a guy in Vermont. And then, a few years ago, I saw it advertised, inquired, and bought it back. The owner telling me he probably didn't put 1,000 miles on the car. And the odometer now showing 33,000 miles.
So....this is what I got......my son picked it up and trailered it back to Connecticut. When I first saw it, opened the bonnet and immediately rushed into my office to get my trusty kitchen magnet. The bonnet was feather light...and my magnet told the story. ONE OF THE VERY RARE aluminum bodied Morgans. MUCH TOO GOOD TO SELL.....and with some minor prep, it went back to my barn.
Over the past few years, we have found and/or done the following: pulled the engine, found the crank and bearings were like new. Head has been extensively ported and polished, a huge racing oil sump fitted, and tubular headers. We installed a very rare 'Swan' manifold and a pair of twin 40 DCOE Webers, and it came alive.....faster than my old Morgan SuperSport...and why not? At least three hundred pounds lighter and being bored to 1700cc, probably around 135 hp with its high lift camshaft. Thus, lighter and more powerful than the famed SuperSports (and if you know your racing history, a SuperSport won the under 2 liter GT category at the 1962 24 Hours of Le Mans beating the factory Porsche and Alfa teams)
Next, we installed a rebuilt Ford T9 close ratio five speed transmission making higher speed cruising effortless and affording the pleasure of enjoying the close ratios for spirited driving. The car really benefited. And then we dealt with reliability......converted to a new dual circuit master cylinder (with its excellent front disc brakes), installed a modern magnetic induction ignition, revised the wiring and added more fuses, converted to negative ground, installed an expensive aluminum racing radiator with shrouded high output cooling fan, went back to the downdraft Weber for more economy and easier tuning (but the twin Webers can be supplied with the car), and for comfort and convenience installed a new replica of the original heater, a modern stereo/CD with USB input, a 12v outlet for my XM radio, a back up solid state fuel pimp (just in case...), a new wood steering wheel, and a racing battery cut off switch.
Moving along.....car has wire wheels with new radials, front end is tight and in very good condition, I have found the original leather racing style competition buckets seats are supremely comfortable AND adjustable (rate on a Morgan), the original top, side curtains, and tonneau are all very good and fit properly (have driven the car, comfortably, in the Winter and rain), inertia reel belts, optional water temp gauge (and the car always runs cool on the hottest days), luggage rack, in short, I have done everything to make this (in my opinion) the absolute best all around Morgan sports car.
I am not fond of the later Morgans....geez, they don't even have an oil pressure gauge! And wiring and electrics are too complicated. While earlier Morgans are under powered and with far less performance. Remember, this car has the same power and drive train as a hot Lotus Super 7 or Caterham 7 and only weighs a couple of hundred pounds more. In fact, with the Webers, a power to weight ratio similar to a European Lotus Elan sprint.
So there it is. With original paint (I am guessing), close up it has more than its share of flaws. But stand back a bit, maybe even as dusk approaches, and in my eyes it begins to look like a show car. But with its potent Cosworth modified engine, slick 5 speed, disc brakes, wire wheels, AND aluminum body, this is one very special Morgan.
And now, for sale.
Inventory Number: NE-1966-14

Printer-Friendly version