$17900
1966 MG B roadster (SOLD)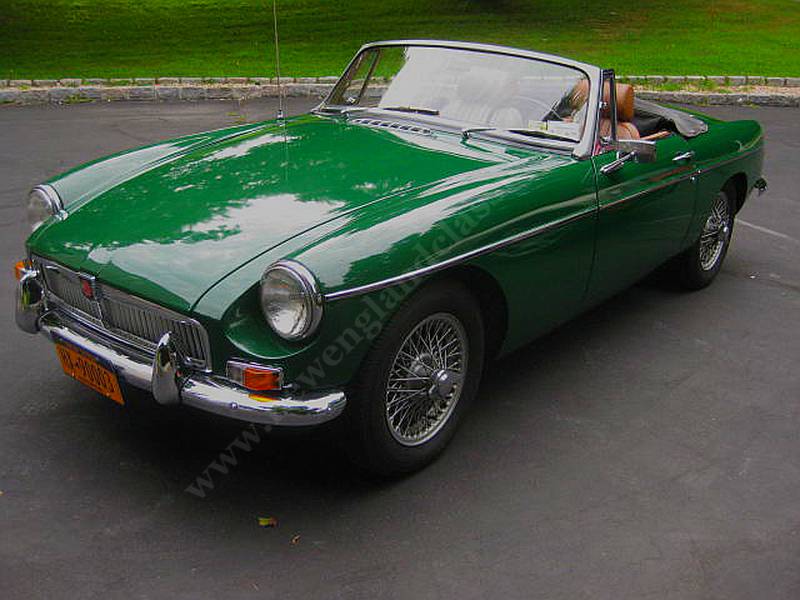 Click to view picture, left/right arrows to scroll
---
Just in and a wonderful car.... just about my ideal for an early MGB.
Excellent body, beautiful paint, $1,400 worth of new interior and leather seats, a $500 wood grained dashboard, brand new top, all new chrome, spotless trunk compartment, excellent rust free floors, on and on.
AND what makes this car even 'better than new' is the installation of a later model 4 speed all synchromesh transmission. Quieter operation, easier shifting, and no 'crunching' going up and down through the gears. Also converted to negative ground, a far more efficient alternator, and we may very well convert the car to a more modern dual master cylinder prior to sale.
With wire wheels, a modern stereo, and the beautiful esthetics, really a 'dream' early MGB. Clearly the product of a lot of money spent and certainly worthwhile as pre 1968 MGBs are a joy to behold (hence personally owning a 1963 and 1965 B). The beautiful steel dash, the lack of side lights, the more powerful engine, great cars. Simple, rugged, reliable, easy to service, and plentiful supply of even the tiniest parts.
Wiring is excellent, run 80 psi oil pressure when warm, 155-160 psi compression in every cylinder, no smoke hot of cold, brakes just done (rotors and calipers), exhaust is quiet, everything works, and it is ready for show, winding back roads, or distance cruising.
And, like most of the small English sports cars we sell, provides a high degree of entertainment without the need for wildly illegal speeds. Truth is, at 60-7-80 mph an MGB is one delightful classic sports car with the added virtues of disc brakes, light and precise steering, very good ride and handling characteristics, and with its 98hp engine, capable of around 105 mph.
With a style that seems to transcend its age. And this car happens to have the optional rear seat with room for two small kids (or one big dog).
(and yes, we can 'improve' this car even further....air conditioning, modern 5 speed transmission, rear disc brakes, servo booster, engine modifications, all readily available.)
Inventory Number: NE-1966-15

Printer-Friendly version