$17900
1967 MG B Roadster (SOLD)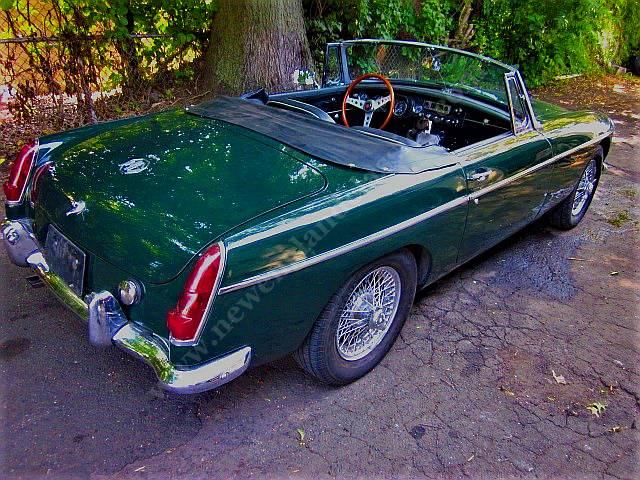 Click to view picture, left/right arrows to scroll
---
A lot of people suggest the 67 is just about the top of the heap in MGBs......in many ways, I guess that is true. A five main bearing 98hp engine, the purest esthetics, steel dash, chrome bumpers, a beautiful classic form.
And in this car's case, a very nice example. Last owner told us 3,000 miles since the engine was rebuilt...in our tests seems to be accurate, 160-170 psi compression in every cylinder, 70 psi oil pressure when warm, no smoke, no apparant oil leaks, quiet valves, excellent power.
Last owner purchased the car back in 1980, since then, babied, garaged, rarely used. Work he did included new clutch and brake master cylinders, new brake lines, new top, polished stainless steel exhaust, new carpets, car has excellent seats and interior panels, excellent dash with working original gauges, and while he didn't mention wiring, it appears to be fairly new. And, as photos show, a very clean engine bay, new bonnet padding, excellent radiator, correct air cleaners, oil cooler, etc. And the floors, see photos, 'speak for themselves.'
We saved the next owner the hassle of converting to negative ground.....fitted a new Sony stereo/CD with USB input, new speakers, seat belts, tonneau, etc.
All in all, a beautiful 49 year old classic MGB roadster. Starts instantly, runs perfectly, great brakes, handling, and steering. And ready to drive anywhere.
Just finished.
Inventory Number: NE-1967-37

Printer-Friendly version