$32500
1967 VW 'Super" Bug (SOLD)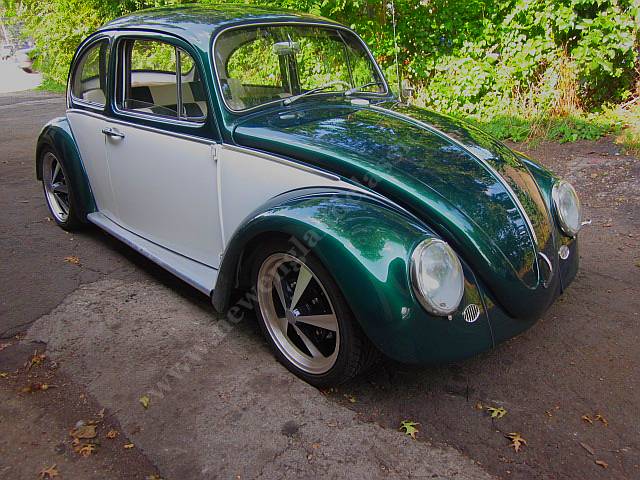 Click to view picture, left/right arrows to scroll
---
Like nothing we have ever seen and, and through our British car eyes, something approaching a Morris Minor with a Cosworth turbocharged engine.......
Read on.....
A complete body off, pan up nut and bolt restoration by a local ace car mechanic/painter/technician. New 2332cc VW engine, 4340 forged crank, 94mm forged pistons, performance camshaft, heavy duty aluminum dual bypass engine case (please excuse my ignorance of VW performance pieces...well versed on English Ford and Coventry Climax race engines, just re-typing info supplied by last owner of this car), CBS performance fuel injection, electronic crank fired ignition, T03/T04 Hybrid turbo set for a maximum of 7psi boost, .48 A/ exhaust housing, .70 A/R compressor housing, 59mm compressor wheel.
Rancho pro comp transaxle with close ratio gears and higher 4th for highway cruising. 7" X 17" alloy wheels with 205/40 high speed radials, Empi disc brakes, Warrior external oil cooler with fan, external oil filter, 2 1/2" drop spindles, Airkewld front and rear air suspension, 4" narrowed front beam.
Beautifully done interior, extra gauges on the dash (as seen in the photos), substantial roll bar ('just in case'), full back seat, stereo, and not a lot additional I can add.
Whew. Exhausted just reading the last owner's list. But I drove the car, GOSH when you get on it, the car flies. Estimated 250hp in a very very light car. And no idea how it handles as the rush of acceleration was sufficient to go in one direction, turn around, and go in the opposite direction. VERY RAPIDLY.
I am quite certain the front wheels did not lift off the ground although, in all candor, I guess there was a chance. But, as mentioned at the beginning of this little tale, from my English perspective, it was like a Morris Minor with.....250hp. But with the set up suspension, super wide wheels and tires, disc brakes, on and on, it would appear that all of the details have been well taken care of.
What to do with this car? Clearly, a fun car to use for shows. And for blasts down the local roads. Or just going out for a pizza knowing that if full throttle is applied, the pizza will still be hot when you get home (even if the trip is twenty miles).
In our showroom and available to be seen and driven most any time.
Inventory Number: NE-1967-44

Printer-Friendly version