$19500
1971 Lotus Europa S2 (SOLD)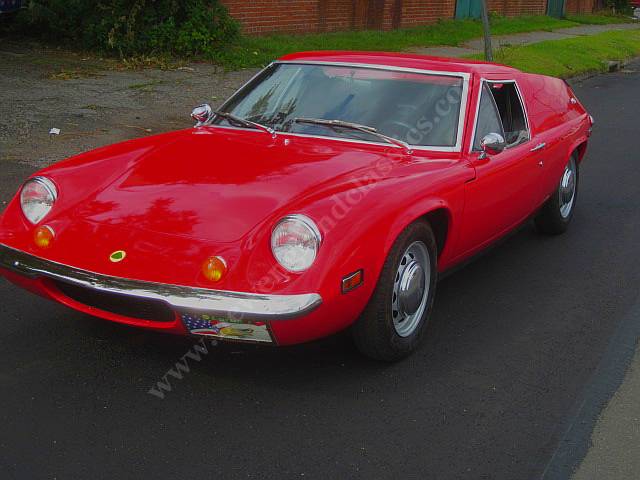 Click to view picture, left/right arrows to scroll
---
Beautiful restored to concours winning condition.
Restored as a long term project by a recognized Lotus expert and Certified Aircraft technician. Meticulous nut and bolt, body off restoration..........looks, runs, and drives better than new. First class repaint in original color, perfect panel fit, fabulous reflections down the body sides, re chromed bumpers, rebuilt original Renault 821-30 all aluminum engine, Weber carb (original Solex carb comes with car), all new brakes, rebuilt front and rear suspensions, new cooling tubes and hoses, excellent interior with new wood dashboard, new dash pad, new seat sliders, carpets and headliner, correct size Vredestein radials on powder coated original wheels, rod ends and Heim joints replaced and shift lever converted to a later, and better, twin cam version to eliminate slop in the shifting, all in all, a careful four year restoration equivalent to (maybe) a $40-50,000 restoration done in a professional workshop.
And has received multiple 'Best in Show' and 'Best in class' awards at local and regional car shows.
Best of all, exotic to look at, lots of fun to drive, AND one feels as if one is going faster than you are. A great way to satisfy one's need for speed and not wind up in the slammer for going 140 mph in a 30 mph zone!
Having spend much of my life driving Lotus Formula cars, driving this Europa is the closest I have felt to the 'feel' of being in an older Lotus racing car. Steering is like magic, brakes and handling are superb, shifts remarkably precisely, and at (say) 30-80 mph on winding roads, genuinely exciting.
Even has a first class stereo system if one gets bored with the sounds of the engine.
Inventory Number: NE-1971-11

Printer-Friendly version