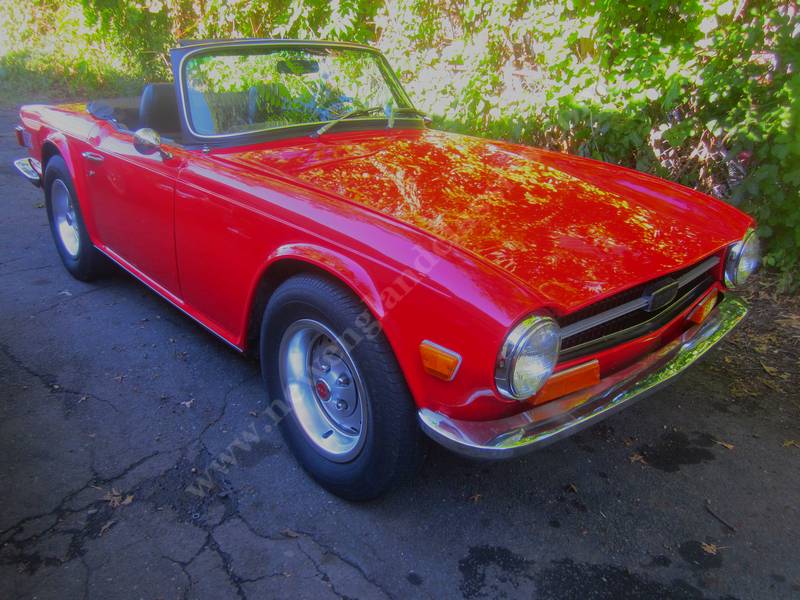 Click to view picture, left/right arrows to scroll
---

A definite gem........excellent body with show quality red paint, engine bay, trunk, spare wheel well, door jambs, under hood and trunk, a VERY thorough repaint. And look at the photos....truly a 'mirror image' of very high quality.
Runs great, 70 psi oil pressure, no smoke, quiet valves, just about perfect. Same with transmission and clutch. Smooth and powerful. With a great sound.
Interior appears new, even the wood dash has a 'mirror finish' and even details like a new windshield rubber seal and compression strip. Great chrome, really excellent floors and frame, everything works (other than the ancient radio). AND with the addition of two new Weber carbs. CLEARLY the last owner was fastidious and thorough in the work he did or had done.
This is a beautiful TR6 that will look great in anyone's garage and if your idea of a car show is the kind they hold down in the village center at the fire department of VFW hall, this car is certainly in 'show condition.' And even better, crawl underneath and it is VERY impressive.
Inventory Number: NE-1971-15

Printer-Friendly version