$22900
1972 Triumph Spit Six (SOLD)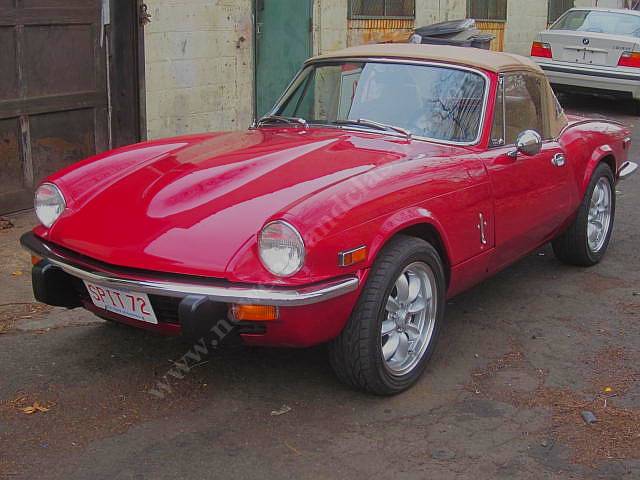 Click to view picture, left/right arrows to scroll
---
Okay, so it is a 'made up' model name but in two short words, offers a clear description,
A 'Spit Six.' Six cylinder Spitfire. But that is only part of the story.
I have been questioned as to why I put so much effort, time, and expense in my own 1965 MGB....2 liter engine, alloy crossflow head, twin Webers, roller rockers, 5 speed trans, four wheel disc brakes with 4 piston front calipers, serro and dual master cylinder, chrome wire wheels, leather seats..... One gawking person even blurted out 'you could have a used Ferrari for the money you invested.' To which I replied 'but I didn't WANT a Ferrari.' I wanted a sensational classic sports car. Which I have.
And now, we came across this car. Into which someone DID invest 'Ferrari' (okay, a cheap 308GTS) money. But what a car.
Photos pretty much tell it all. As perfect a restoration as one could imagine....perfect underneath, excellent body, show quality paint, new leather interior, new cloth top, perfect engine bay detailing and (of course) a rebuilt six cylinder, two liter GT6 engine and trans.
And. recently, improved (further) with a freshly rebuilt 3.27 diff (a thousand dollars not including installation) replacing the original's 3.89 diff which has a similar effect to overdrive (to be specific, it is the equivalent to a .84 5th gear.....the commonly used Ford T9 five speed offers .82 multiplication....almost identical)
Other details: 42,000 original miles, very very few since the restoration was completed, rechromed bumpers, expensive 15" alloy wheels (which further increase the overall gearing), GT6 transmission, disc brakes, smooth, powerful (within the context of a small, light car with a 2 liter GT6 engine), and the overall 'feel' is of a much more expensive car.
Now, I am not a fan of Spitfires or GT6s but this is one incredibly impressive classic sports car.
Ready for use or show. Either way, will impress all who view it.
Inventory Number: NE-1972-33

Printer-Friendly version