$11900
1972 Austin Mini 1000 Super Deluxe (SOLD)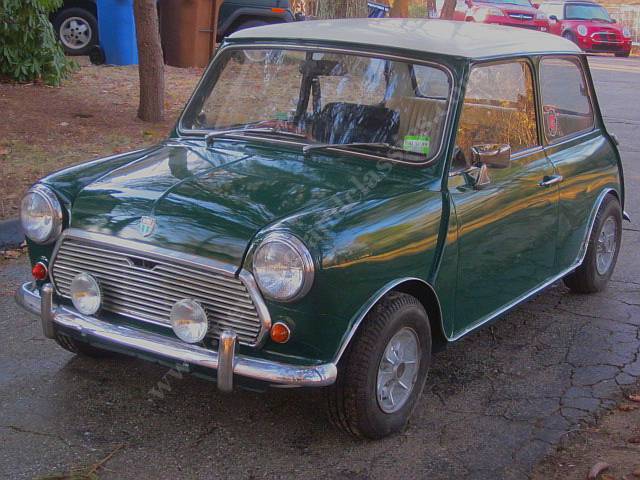 Click to view picture, left/right arrows to scroll
---
A true gem.....acquired from a local friend (he was the second owner), 32,000 original miles since new.
Excellent body, no plastic filler OR rust anywhere......new high quality base coat/clear coat British Racing Green paint, all new chrome, incredibly well preserved original headliner, carpets, interior panels, dash, trim, etc. With a pair of very comfy Corbeau rally seats.
Engine is a 998cc unit, no smoke, perfect compression, smooth running, all synchromesh transmission with high geared 3.44 diff (same as a contemporary Cooper 1275 "S") which allows easy, relatively low rev cruising at 60-70 mph cruising speed, alternator, fresh air heater, excellent wiring and electrics, everything works (all lights, gauges, etc.).
We fitted a new tachometer on the steering column, car has inertia reel belts, new fog lights wired through a relay, AND......a beautiful set of five original Dumlop light alloy wheels, new Yokohama A008 165/70HR10 high speed radials.....about the best tire on the market for this kind of application.
We added a beautiful wood steering wheel, new stereo with bluetooth, added thick padding/sound deadening under the carpet, even installed nice plastic door pockets inside each door.
What else? New side mirrors with special mounting plinths, battery cut off switch, we installed a modern magnetic induction ignition (no points or condenser), new air cleaner, and when the car was painted, nice detail work was done painting inside the engine bay and trunk.
Been driving it for the past few weeks, a true joy. Now, 40hp isn't gonna spin the wheels but it has ample power around town and I had no problem reaching 75 mph and there was sufficient power for a bit more. Steering and handling are first rate, brakes work well (and we installed a new brake and clutch master cylinder, new flex lines, wheel cylinders, and brake shoes), exhaust quiet, front end is tight, we even installed a steering column adjuster to lower the wheel from its original bus like angle.
For local shows, 'round town, or even everyday use, this Mini is really first rate and doesn't miss a beat. Whether you possess dreams of being a 21st century Mr Bean or want to pretend being a driver in the original "The Italian Job" movie, this Mini offers a rare opportunity. A lot of detail work and attention went into preparing this car and it is ready to go anywhere.
Inventory Number: NE-1972-40

Printer-Friendly version