$12900
1973 MG B Roadster (SOLD)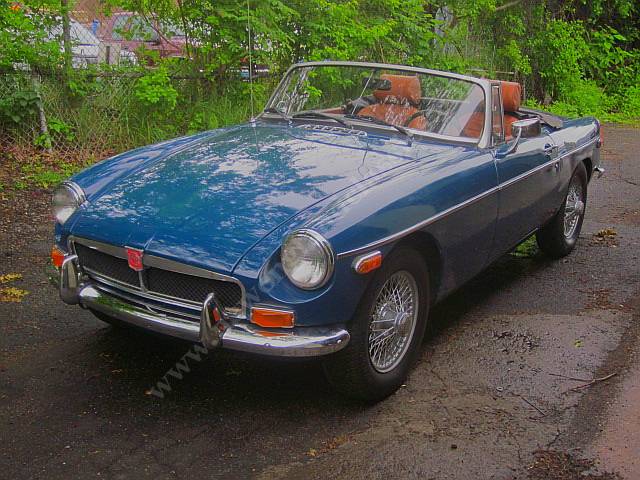 Click to view picture, left/right arrows to scroll
---
A nice, clean Southern car......excellent body, very presentable original paint (deep blue), 49,000 validated miles (title lists mileage as 'actual'), excellent drive train, 140-145 psi compression in every cylinder, 75 psi oil pressure, excellent wiring and electrics, checked over brakes, front end, steering, all fluids, has a fairly new stainless steel exhaust, near new premium Dunlop 185/75 radials, , wire wheels, new wood dashboard, modern stereo/CD, new convertible top, good tonneau, seats just done (in Autumn leaf as are panels and carpets), mostly new chrome, starts instantly, runs perfectly, ready to be driven anywhere.
During a careful examination, we found new brake flex lines, new wheel cylinders and adjusters, new wheel bearings, a lot of indications of a properly serviced car. Because, in truth, the bulk of these cars are poorly serviced, abused, and neglected. But not this car (last owner was a trained mechanic)
(and yes, excellent floors and battery boxes, no bad surprises)
Nice MGB.
And the 1973s were a very good year for MGBs...face level air vents (making it easy to install a/c), glove box (something 1968-1971 MGBs didn't have), twin SUs (for more power), chrome bumpers, improved cooling and electrical systems, all synchromesh transmission, stronger back axle, etc.
These are wonderful cars that offer a true classic 'feel' combined with contemporary performance. With smooth power up to 100+ mph, disc brakes, precise steering, very comfortable ride, rattle free monocoque chassis/body, and very nice styling. All reasons an MGB, a GOOD MGB, is just about the best compromise in a small, not very expensive sports car.
Inventory Number: NE-1973-19

Printer-Friendly version