$15900
1974 Triumph TR6 (SOLD)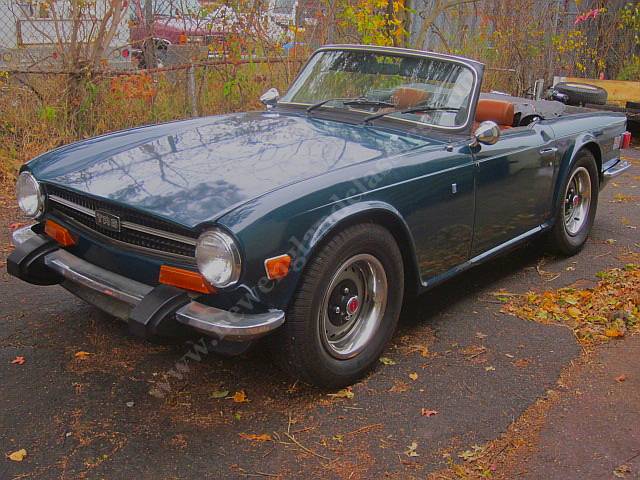 Click to view picture, left/right arrows to scroll
---
Quite a find.....78k miles since new, last owner for 19 years....cared for, babied, garaged, and very well maintained.
A beautiful deep blue with brownish/tan interior. Body is straight and absolutely rust free, interior is almost like new as is dash, crash pad, panels, etc. Chrome is very good original. And underneath....absolutely rust free, perfect original floors, excellent chassis, doesn't really get any better.
New cloth top (the most expensive type), very elaborate stereo with CD changer and amp in the trunk and remote control on the dash, front end is tight, tires near new, wiring and electrics excellent with all working original instruments, very clean engine and trunk compartments, brakes work well, has a fairly new stainless steel exhaust system, boot cover, EXCELLENT driver sufficiently clean for most any low key show. All in all, a wonderful example at a very fair price.
Compression (140 psi in every cylinder) and oil pressure (75-85 psi) are 'as new' and there is no smoke, cold or hot. Carbs recently rebuilt by Joe Curto in NY, all new hoses (of the best type), runs and sounds wonderful. All in all, seems to have passed every test we could imagine. And ready to drive anywhere.
(A note: if you notice, most of our cars list compression and oil pressure tests.....we can't begin to tell you how many cars we see....and don't buy....with low oil pressure and/or poor or uneven compression. In many of these cases, the cause is....worn rings, worn bearings, worn oil pumps, worn valves and seats.....simply, worn out engines. And, curiously, 75% of the cars we consider purchasing, when we call the owner and ask 'what is the oil pressure when hot and on the highway' we frequently get answers such as 'I never drove it on the highway' of 'I never looked at the gauge.' And we never buy those cars. Neither should you)
Inventory Number: NE-1974-26

Printer-Friendly version