$19900
1974 MG B roadster (SOLD)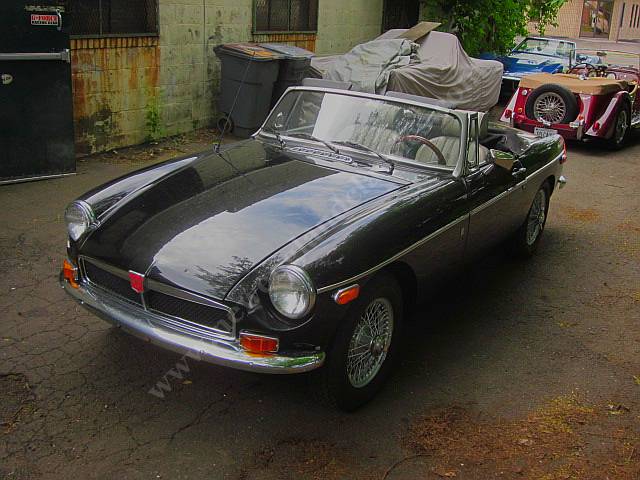 Click to view picture, left/right arrows to scroll
---
Clearly, a labor of love for the last owner.......everything about this car shows a lot of time, effort, and cost invested by a loving owner.
First of all black with elegant gray leather seats, custom door panel pockets, a beautifully trimmed interior. New carpets, new wood steering wheel and wood dash. One of the nicest I have ever seen. And with a new stereo/CD.
Engine rebuilt 1,000 miles ago, spotless engine bay, maintains 70 psi oil pressure, zero smoke, fitted with a Weber carb, oil cooler, what appears to be a new wiring harness, even the proper hood padding. AND mated to a perfect working overdrive transmission providing six forward ratios.
We were told the front end was recently rebuilt, everything clean and painted and passed 'the wiggle test' looking for play. Went over the edges of the body with my kitchen magnet, not a trace of plastic filler. And the paint truly has a mirror finish.
Fairly new top, boot cover, carpeted trunk, excellent chrome, all new wire wheel splined adapters and new chrome knock offs, all gauges work, all electricals work, has a nice LED third brake light, floors appeared to be perfect with all original factory undercoating, what else is there? An absolutely stunning MGB and 1974s are among the best of the breed....last year with chrome bumpers and having dash level air vents making a/c installation easier and better.
Just in, thoroughly tested and examined, ready to drive anywhere.
Inventory Number: NE-1974-33

Printer-Friendly version