$15500
1980 Shay Model A (SOLD)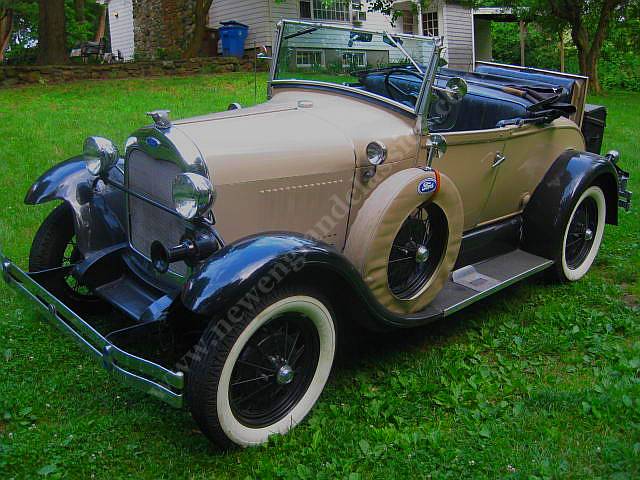 Click to view picture, left/right arrows to scroll
---
A car from my own collection which I have enjoyed for some time......are you familiar with a Shay?
What it consists of is an interesting project of both Mr Shay AND the Ford Motor Company....an incredible recreation of a 1929 Model A on a Ford Pinto 2.3 liter chassis. With such refinements as vented disc brakes, a 2.3 liter OHC engine, modern steering and suspension.
And the photos tell the rest....a great looking car that starts instantly, runs flawlessly, can cruise at 70+ mph, stops well, and is fun to own and drive.
I purchased it from the daughter of the deceased owner, a neighbor in my town. Has covered only 8,000 miles since new. And looks the part.
Body is fiberglass so, of course, not the slightest dent or nick. Same with the paint, virtually 'as new' (and yes, this car was garaged and babied every day of its life). Has a easy up and down convertible top, never used side curtains, folding windshield, rumble seat, 18" wire wheels, and even an oooga horn.
When first acquired, and to assure flawless reliability, I had my guys install a new water pump, all new hoses, complete tune up, change fluids, installed a modern stereo/CD, and got rid of the awful Pinto steering wheel, replacing it with something I felt looked classic.
Car has a heater, all lights and everything works perfectly, the trunk is rather large and useful, has seat belts, and............this I find really incredible.......car's title lists it as a 'Ford Model A.' Only variation is, of course, year of manufacture.....1980, not 1929.
Philosophically, am not a especially fond of replicas. I think MG TDs with VW engines ticking in the back are horrible, and Healey replicas look dumb. However, have had a few remarkably good Lotus 7 replicas, same with Cobras. And was always fond of the several Porsche Speedster replicas I have owned. Hence, fell in love with this Shay the minute it was offered to me. Alas, space is forcing a sale and I suspect the next owner will have as much fun as I and the last owner enjoyed.
As it sits, fires up instantly, doesn't miss a beat (as one might expect with only 8,000 miles since new), engine offers ample power, has a classic 'feel' helped by the long wand of a shift lever, have driven modest distances on the highway (unlike the last owner who NEVER EVER ventured more than a few miles from his house), and has a wonderful view out over the hood from the driver's seat.
Without any of the negatives of diving a genuine 1929 car.
Inventory Number: NE-1980-22

Printer-Friendly version