$18900
1985 TVR Tasman 280i (SOLD)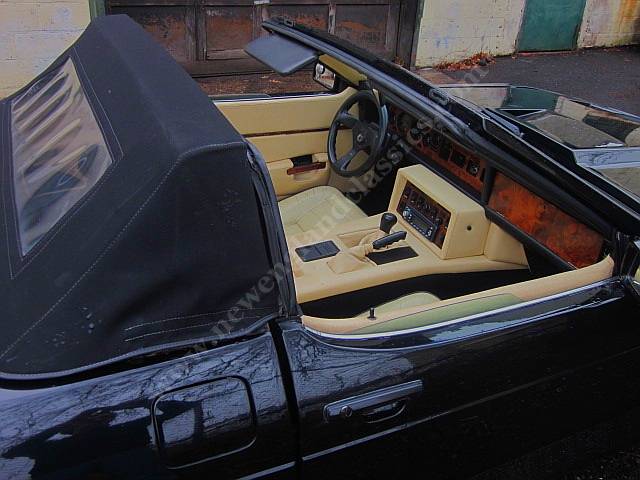 Click to view picture, left/right arrows to scroll
---
What a find.........ONE FAMILY owned since new, 3,000 documented miles, an incredible example of an awesome car.
2.8 liter Ford V8 engine, tubular space frame chassis, all independent suspension, four wheel disc brakes (inboard in the rear) with power assist, very effective three position drophead top, power windows, air conditioning (just checked and working properly), fiberglass body (in perfect condition), alloy wheels, stereo, electrically operated headlight pods, designed by former Lotus engineer and is very 'Lotus' like throughout.
From the mileage, this car has not seen much use. Which is quite an understatement. So, when it came in, we went through the car fairly thoroughly.....original 205/60VR14 Goodyears had nearly zero wear but were nearly 40 years old. And we fitted new radials, went over the suspension and brakes, checked shocks, fuel lines, gauges, electricals, lubricated trunk and glove box latches, changed oil and filter (and drilled and safety wired the oil drain plug), did a complete professional alignment, found it has new mufflers (might have rusted away from disuse), and the result? Almost like new.
And when new, these cars sold, back in the mid 1980s, for over $40,000.
I have owned a 280i for the past few years and love it. Sufficiently fast to get places quickly with a top speed of around 125 mph. Incredible handling, comparable to my Lotus Elise, far better ride, and possibly the best highway car I can remember.....superb directional stability, awesome steering, and high geared for quiet operation.
What really came as a surprise was the top design.....at 50 degrees ambient air temperature, with the windows up and the roof off, heater on. completely comfortable. With no rush of air. I guess the raked windshield accounts for much of this.
Easy to service, reliable, and in this car's case, almost like new. A lot of car for the money.
Inventory Number: NE-1985-4

Printer-Friendly version